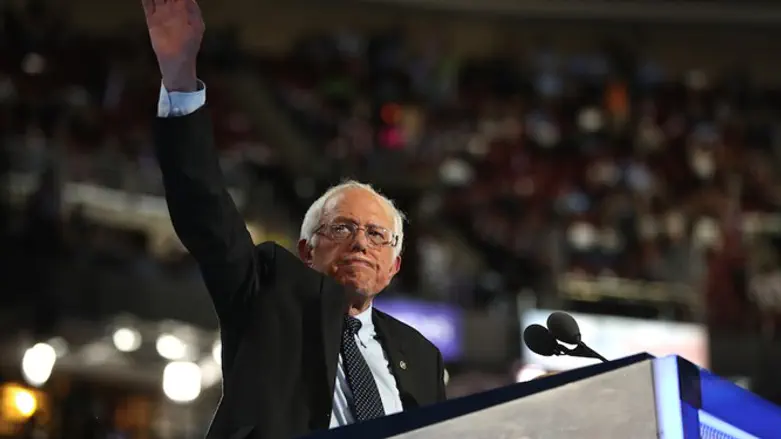 Bernie Sanders speaking on the first day of the Democratic National Convention at the Well
Joe Raedle/ Getty Images
Senator Bernie Sanders applauded the pulling of a Republican bill meant to repeal the Affordable Care Act, while the Reform movement's Religious Action Center urged expanding health care coverage.
Sanders (independent, Vermont) called it "a major victory" after House Speaker Paul Ryan (Republican, Wisconsin), announced Friday afternoon that he was pulling the bill, which would have repealed much of President Obama's Affordable Care Act and which failed to garner enough support.
"The defeat of the disastrous Trump-Ryan health care bill is a major victory for working families and everyone who stood up in opposition," Sanders wrote on Twitter.
The Religious Action Center, the Reform movement's policy wing, called for expanding health care coverage in response to the news.
"Congress should focus on expanding and enhancing coverage, not hobbling affordable care," the RAC wrote on Twitter.
Rep. Ted Deutch, a Jewish Democrat from Florida, and the social justice group Bend the Arc Jewish Action both applauded the failure of the measure.
"The American people spoke loud and clear; they do not support gutting their own health benefits in order to give massive tax cuts to health insurance companies. House Republicans need to start working with Democrats on real policy solutions that will benefit the American people," Deutch said in a statement.
Bend the Arc's CEO Stosh Cotler said, "The cancellation of this vote is a victory for all Americans and for our fundamental Jewish values. The American Health Care Act would devastate our nation's health care system and threaten the well-being of our society's most vulnerable members, including the poor, the elderly, the disabled and children."
A Congressional Budget Office score of a recent version of the bill had predicted it could lead to 24 million people losing or declining coverage in a decade.
On Wednesday, New York's Jewish federation sent a letter to the state's Congressional delegation opposing the bill because of its potential negative impact on poor people.
"We have grave concerns about the potentially disastrous impact of the American Health Care Act (AHCA) on hundreds of thousands of low income New Yorkers and the organizations that serve them," said the letter sent by Eric Goldstein, the CEO of the UJA-Federation of New York.