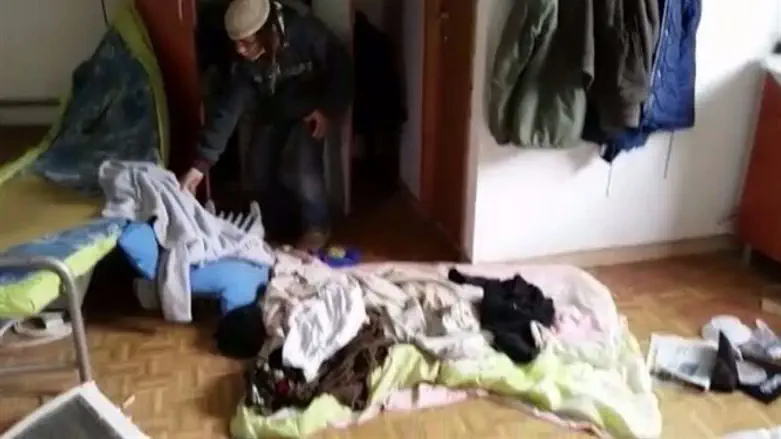 Dorm room after raid
Yeshivat Od Yosef Hai
Police officers, including dozens of Yassam policemen (Yechidat haSiur haMeyuchedet - "Special Patrol Unit") and Border Policemen, together with detectives of the National Crime Unit of the Judea Samaria District Police, raided the Od Yosef Hai yeshiva in Yitzhar again on Wednesday night, arrested two students and brought an administrative restraining order to another. A few hours later the detainees were released.
The policemen came to the yeshiva around 3:00 AM and woke up the students who were sleeping in the school dormitory. The policemen served one of the boys an administrative restraining order from Judea and Samaria for three months, as well as a prohibition from contacting about 20 people. This boy has been distanced several times last year by administrative order.
At the same time police arrested a minor yeshiva student who according to them was wanted for questioning. He was taken for interrogation at the Judea and Samaria police station after which he was released on bond.
In addition, a minor was arrested during the raid on suspicion of assaulting policemen. The students, for their part, said that police officers and the Border Patrol acted violently, pushing and beating the youths. The minor was taken to the Ariel police station where he was interrogated and later released to house arrest.
Later in the morning, Arabs from the village of Madma, accompanied by Border Police forces, arrived to plow the northern slopes of Yitzhar. A 14-year-old resident of Yitzhar was detained by police after they demanded that he leave the area, refusing to present the legal order behind their demand. The boy was released after a short time.
The Honenu legal defense society comments, "We strongly condemn police raids on educational institutions in the middle of the night, awakening students and violating their rights as if they were not children or even people in general. This is not a raid with a serious case backing it, and it leaves the impression that the police relate to Jewish educational institutions with contempt that they would not dare to show Arab children. A country that wants to be democratic does not behave this way."
The Od Yosef Hai yeshiva responded: "The Jewish department in the Shin Bet continues to strive to alienate good, quality boys from the government, and to give them to understand that the existing establishment is pursuing them only because of their appearance and their faith."
A yeshiva source added, "The same phenomenon is seen in the persecution of the Eli pre-IDF preparatory mechina and other people and bodies who dare to express opinions that are incompatible with the winds blowing in the corridors of the High Court of Justice."