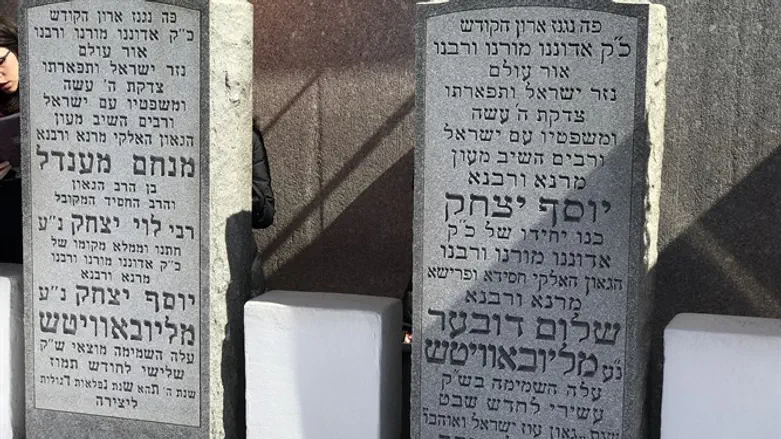 The Ohel of the sixth and seventh Lubavitcher Rebbes
Ido Ben Porat
The Cambria Heights, Queens "Ohel" (literally 'tent' but used by Chabad hassidim to mean 'tomb') of the sixth and seventh Chabad-Lubavitch Rebbes, Rabbi Yosef Yitzchak Scheerson and his son-in-law Rabbi Menachem Mendel Schneerson, has become a 24-hour hub of activity with visitors stopping at all hours of day and night to pray and ask for blessings.
Thousands of Jews, from all backgrounds and ethnicities, as well as politicians, diplomats, and many others, visit the site every day of the year.
Many visit on the tenth of Shvat (the day Rabbi Yosef Yitzchak passed away and Rabbi Menachem Mendel accepted the hassidim's entreaties to become Rebbe), as well as on Rosh Hashana.
On the day of Rabbi Menachem Mendel's passing, the 3rd of Tamuz, tens of thousands of visitors flock to the site, forming a line hundreds of meters long.
The Ohel is in the center of the Chabad portion of the Moshe Montefiore Jewish cemetery in the Queens neighborhood of Cambria Heights.
Since the Ohel is located just ten minutes from JFK International Airport, many people visit immediately upon their arrival in New York.
Some Jews have a custom to write their personal requests on a paper, and place it in the grave. Every day, dozens of requests for blessings, from all over the world, arrive at the Ohel via fax, email, and post. These requests are brought to the grave and placed on it.
The tombs of Rabbi Menachem Mendel Schneerson and his father-in-law Rabbi Yosef Yitzchak Schneerson./ Credit: Ido Ben Porat
Around the Ohel are a synagogue, a tent offering food and drink, a yeshiva, and a Chabad house offering classes. There is also a video room, in which videos of the Rebbe giving talks are constantly shown and watched.
A mikve (ritual bath) is also available 24/7, for those who have the custom of immersing before visiting the Ohel.
Hassid Rabbi Yisrael Zilberstrom told Arutz Sheva, "In the Zohar, a righteous person is considered to have greater influence after his passing than during his lifetime. With the Rebbe, you see this phenomenon clearly.
"Even during his life, he was everyone's Rebbe. He led Chabad hassidim, but he worried about everyone - IDF soldiers, prisoners, everyone.
"Last Purim, Chabad hassidim walked around, working to bring the joy of the holiday to every Jew.
"The Rebbe also initiated the idea of 'shlichus,' sending emissaries to various, far-flung places in the world. He didn't do this because he worried about his hassidim - he did it because he worried about every Jew in the world.
"And he's getting 'feedback' - Jews from all backgrounds and all affiliations come here and feel connected to this place, where they can open their hearts."
Rabbi Zilberstrom also said people have to be on call 24 hours a day, to ensure the site's upkeep. Chabad businessmen bought close to twenty homes near the Ohel, to ensure the site would be properly run and kept, and to allow visitors to sit and properly prepare themselves to enter the Ohel.
"They can sit, prepare themselves, have a bit to eat," Rabbi Zilberstrom said. "Some have the custom to fast before visiting the Ohel, and it's also customary to immerse in a mikve. Some people come directly from the airport, and need a place to get organized and put their things.
"On the day of the Rebbe's passing, we receive nearly ten thousand visitors."
Jerusalem Sephardic Chief Rabbi Shlomo Amar visits the Ohel/ Credit: Ido Ben Porat
Recently, Ivanka Trump and Jared Kushner visited the Ohel, and every Jewish media outlet covered their visit. However, Rabbi Zilberstrom emphasized that the Ohel is run modestly, without the "business" aspect usually added to the tombs of righteous people - and Trump and Kushner's visit was not publicized by Chabad.
"No one who comes here knows who arrived before or after him," Rabbi Zilberstrom said. "In the case of Ivanka Trump, someone publicized it privately, and later apologized to the couple for leaking the information in the video.
"In today's world, we really have no control over these things. But everyone who visits, comes individually and privately.
"In order to allow visitors to feel completely comfortable, we offer strict confidentiality. There's a fax machine here, which receives thousands of pages each day. Each page contains someone's most personal and private information - and they ask the secretary to bring their request to the Ohel."
ה"אוהל" שמחבר את יהודי העולם