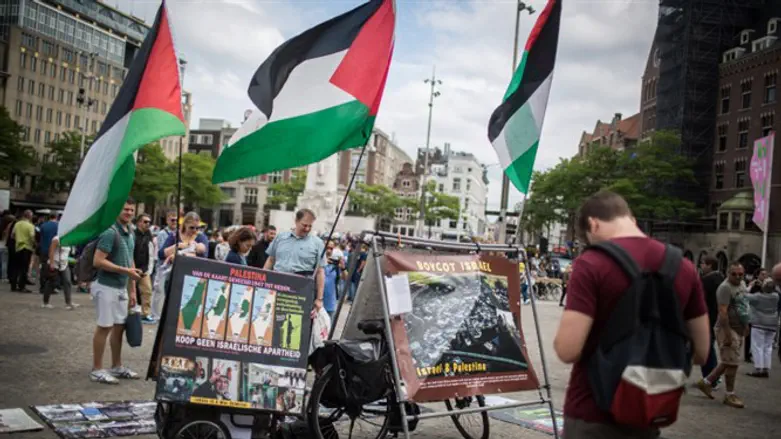 Pro-BDS display
FLASH90
One of the founders of the international Boycott, Divestment, and Sanctions (BDS) movement has been arrested for concealing large sums of money from tax authorities.
Police say Omar Barghouti, founder of both the BDS movement and the Palestinian Campaign for the Academic and Cultural Boycott of Israel, was arrested on suspicion he committed tax evasion over the past decade, concealing $700,000 in earned income from tax authorities.
During a raid of Barghouti's house, police say they found credit cards and purchase records confirming the allegations against him. After being taken into custody, Barghouti was transferred to Haifa for interrogation before being released on bail.
Investigators say Barghouti received the money from a company in the Palestinian Authority which sells and rents ATM machines, where Barghouti has served as director. The BDS co-founder also received large sums of money from speaking tours around the world. In both cases, Barghouti is believed to have concealed the hidden incomes in banks outside of the reach of Israeli tax authorities – one in the United States and one in Ramallah.
The Qatari-born anti-Israel activist was raised in Egypt but received permanent residency status after he married an Israeli Arab woman. Barghouti currently resides in the northern Israeli town of Acre (Akko) and studied in Tel Aviv University – despite his own calls to boycott Israeli academic institutions.
Barghouti has openly advocated for the destruction of the Israel as a Jewish state and the end of Zionism. Barghouti rejects the two-state solution, and has compared Israel to both Apartheid-ridden South Africa and Nazi Germany.