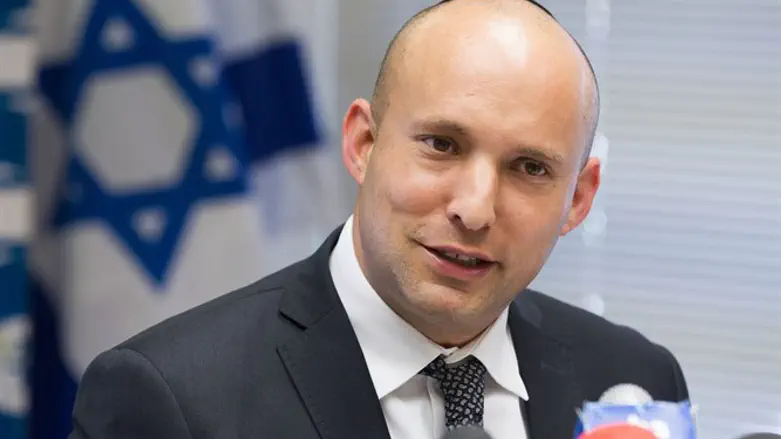 Naftali Bennett
Miriam Alster, Flash 90
Education Minister Naftali Bennett (Jewish Home) responded on Saturday night to the coalition crisis caused by Israeli Prime Minister Binyamin Netanyahu's announcement that he would no longer support the creation of the Israel Public Broadcasting Corporation (IPBC).
"I call on everyone to act responsibly and prevent unnecessary elections which will cause Israel's economy much harm," Bennett said. "With a bit of good will, this crisis can be solved."
On Saturday, Netanyahu announced via Facebook that he had recanted his decision to support the IPBC's creation. He also held a meeting with Likud ministers in which he said that if Finance Minister Moshe Kahlon (Kulanu) does not agree to compromise on the IPBC, new elections will be held.
Opposition MK Zehava Galon (Meretz) on Saturday night said if Netanyahu decides to dissolve the coalition, it will be because of the investigations against him.
"It won't be because his 'heart was broken' by the stories of Israel Broadcasting Authority employees, and it won't be because of the leftist reporters in the IPBC," she said. "It'll be because he wants to end this before he's indicted."
Netanyahu is being investigated on suspicion of accepting expensive cigars and champagne as bribes from close friends. However, Netanyahu does not smoke cigars.