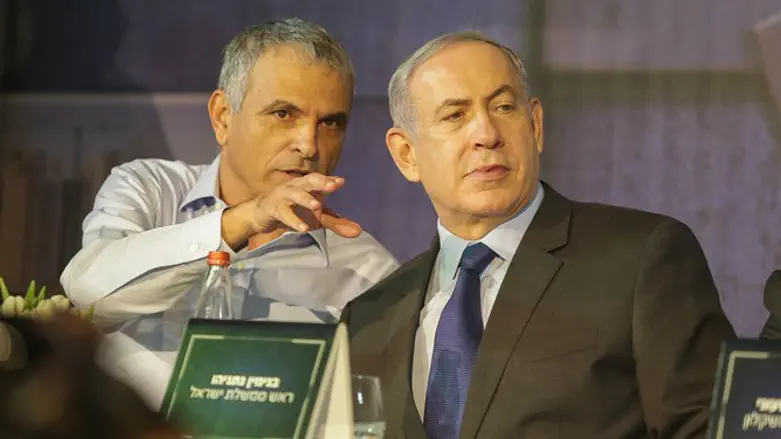 Binyamin Netanyahu and Moshe Kahlon
Adi Yisrael, Flash 90
Israeli Prime Minister Binyamin Netanyahu held a discussion with several Likud ministers and told them outright, "If we don't come to an agreement with Kahlon, we'll have new elections."
Participating in the discussion were Culture and Sport Minister Miri Regev, Tourism Minister Yariv Levin, National Security and Foreign Affairs Minister Tzachi Hanegbi, and Coalition Chairman David Bitan.
In an announcement published on Saturday night, Regev said, "The Prime Minister and the government need to commit to re-evaluating the entire issue. We did this together with the Israel Broadcasting Authority and our conclusion was very clear: We demand a responsible Broadcasting Authority, and not not one which wastes tens of milions of shekels on unnecessary things and which functions as a closed circuit.
"I hope the other coalition members will act responsibly towards the Israeli public, and respect the coalition agreements. I hope they will not force Israeli citizens to undergo unnecessary elections."
In a Facebook post, Netanyahu wrote, "I have changed my mind after a meeting held with Israel Broadcasting Authority workers on Friday. During the meeting, I heard the heartbreaking stories of experienced and devoted workers being sent home because of the IPBC.
"In addition, as it turns out, despite the Finance Ministry's statistics, managing the Israel Broadcasting Authority is millions of shekels cheaper than creating the Israel Public Broadcasting Corporation. So why do we need the corporation?"
Bitan said, "Over a million Likud voters are waiting for us to honor our coalition agreements. The ball is in Finance Minister Moshe Kahlon's (Kulanu) court. We expect our coalition partners will work with us on issues which are important to the Likud, just as we work with them on issues they see as crucial to their agendas.
"The Israel Broadcasting Authority ended the year 2016 with a balanced and responsible budget. There is no reason to leave 1,000 families without an income just prior to the holiday of Pesach (Passover)."
On Saturday evening, Opposition Leader Yitzhak Herzog (Zionist Union) spoke with Kahlon on the phone about the relevant options.
Herzog tweeted, "The Zionist Union, led by myself, will work together with moderate Zionist groups in a social and responsible manner to replace the Prime Minister. We will hold talks to receive wide support and work to create constructive mistrust in the current Knesset."