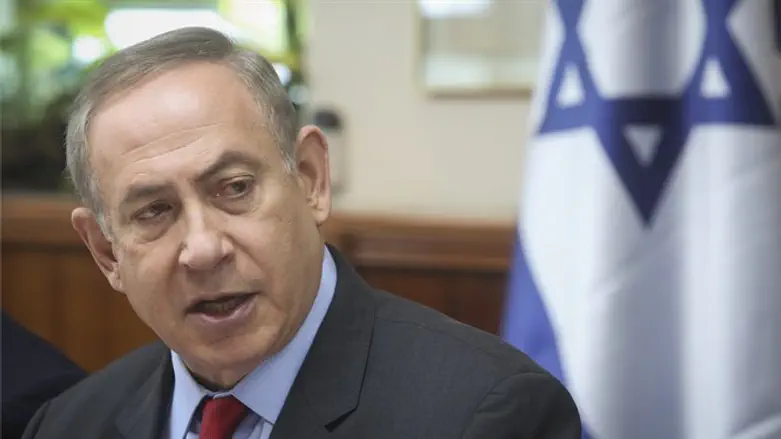 Binyamin Netanyahu
Marc Israel Sellem/POOL
Israeli Prime Minister Binyamin Netanyahu on Saturday night wrote on his Facebook page that he changed his mind about creating the Israel Public Broadcasting Corporation (IPBC) after meeting with Israel Broadcasting Authority (IBA) workers on Friday.
According to Netanyahu, he heard "heartbreaking stories of experienced and devoted workers being sent home because of the IPBC."
"As it turns out, despite the Finance Ministry's statistics, managing the Israel Broadcasting Authority is millions of shekels cheaper than creating the Israel Public Broadcasting Corporation. So why do we need the corporation?" Netanyahu wrote.
Earlier, Coalition Chairman David Bitan (Likud) said his party would oppose the creating of the IPBC, despite agreeing on Thursday to cooperate with it.
"Regarding the IPBC, yes, there is a law. We are not willing to create this corporation, and we have 45 days to ensure it will not be created," Bitan told Channel 2's "Meet the Israeli Press" program. "Obviously, we respect the law.
"We will not agree, no matter what, to create the IPBC. We will not agree to do it. We expect Finance Minister Moshe Kahlon (Kulanu) to compromise with us. Netanyahu did not agree with Kahlon. We have agreed on laws to regulate the issue.
"We received 30 mandates. Okay, we know how to govern. We passed a budget in four hours. We've passed hundreds of laws and decisions. There's no problem, but the Likud has 30 mandates and expects its agendas to be respected.
"If our agendas are not respected - anything can happen."
Kahlon ordered the IBA to close on April 30, in preparation for the creation of the IPBC. It is not clear if he will exit the coalition as a result of Netanyahu's backtracking.
If Kahlon does decide to leave the coalition, the Knesset would dissolve and new elections will need to be held.
The IPBC is scheduled to begin operating in May 2017. In October, Strategic Affairs and Minister of Information Minister Gilad Erdan (Likud) said about Bitan's opposition to the IPBC, "I was very sorry to see the inaccurate data presented in MK Bitan's calculations...the IBA needs to be replaced because the public has lost its trust in it...
"Most of the public funds were wasted on high wages and employees who were not needed, instead of being invested in providing broadcasting for the public's interest."
In November, Netanyahu said he would dissolve the government and call for elections if the Israel Public Broadcasting Corporation (IPBC) begins operations.