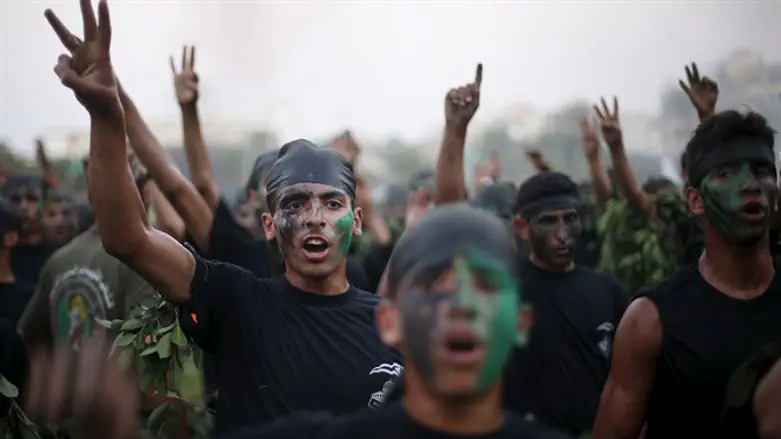 Hamas
Reuters
A senior Hamas member declared on Wednesday that the group is not interested in another confrontation with Israel, but added that it continues to focus on strengthening its military capabilities.
Khalil Al-Haya, a member of Hamas's political bureau, told the Palestine newspaper which is affiliated with the movement that Hamas is not striving for war and is "defending the Palestinian people in case Israel initiates a war."
In a direct message to Israel, Al-Haya said, "We adhere to the principles of the ceasefire of 2014, but if war is forced on us, we will be like lions on the battlefield."
"Some say that Hamas will establish an authority to run Gaza, but we still say that the national unity government has become an existing reality and still has authority in Gaza and the West Bank," he added, referring to contacts between Hamas and longtime rival Fatah in an attempt to reach a reconciliation agreement.
"Jerusalem cannot be liberated while we are divided, and the city will not be liberated by selling illusions," said Al-Haya.
Hamas agreed to a ceasefire at the end of Israel's counterterrorism Operation Protective Edge in 2014.
Despite the ceasefire, Gaza-based terrorists continue to occasionally fire rockets towards southern Israel.
On Wednesday, a rocket fired from Gaza exploded in an open region in the Negev.
No injuries were reported. The Red Alert incoming rocket siren did not sound because the rocket was headed toward an open area.
Hours later, the Israel Air Force (IAF) attacked and destroyed two terrorist infrastructures belonging to Hamas in response to the rocket fire.
"The IDF considers the Hamas terrorist organization solely responsible for what is happening in the Gaza Strip," the IDF Spokesperson's Unit said in a statement.
Two weeks ago, a rocket from Gaza exploded in an open area in the Hof Ashkelon Regional Council.
There were no reports of physical injuries or damage. In this case too, the "Red Alert" siren was not sounded because the rocket exploded in an open area.