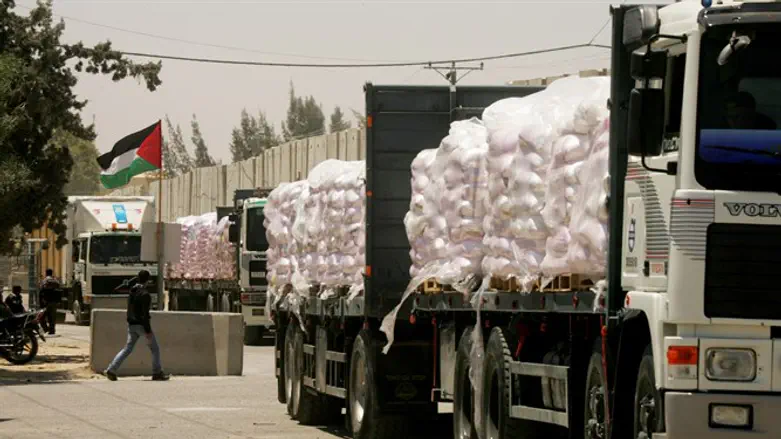 The Kerem Shalom crossing
Abd Rahim Hatib, Flash 90
In the heart of the Gaza Strip's Shati refugee camp, machines buzz as Mohammed Abu Shanab's employees sew small, round pieces of cloth: Jewish skullcaps for export to Israel.
It may seem an unlikely product to be made in the Gaza strip , but with unemployment and poverty rampant, some in Gaza will take any business they can get. "The Israelis appreciate our products for their quality and our proximity to their market," Abu Shanab said.
On the other hand, they fear the crossings will be closed and the delivery of goods will be delayed. "Israel controls all crossings into and out of the Gaza Strip, apart from one bordering Egypt. One terminal on the Israeli border -- Kerem Shalom -- is designated for goods."
With about a dozen sewing machines, Abu Shanab's small textile factory, located near the home of Hamas's former leader in Gaza Ismail Haniya, produces other products such as shirts and trousers as well. But his production level is not what he would like.
In 2006, when Israel imposed a blockade on the Gaza Strip, he says he shut down. The three wars that followed caused the partial or complete closure of some 50 companies in the Gaza Strip, according to industry representatives. Abu Shanab's factory only reopened last year, he said.
Gaza's textile sector as a whole remains a far cry from the early 1990s, when it employed some 35,000 people in more than 900 companies.
Abu Shanab, also a member of the Union of Palestinian Textile Industries, said that at that time four million pieces were sent to Israel each month. Since the blockade, the figures have fallen to 4,000 Gazans employed in the sector and some 150 companies, whose products are mainly aimed at the local market, union figures show.
Some 25 of the companies export to Israel as well as to Arabs living in Judea and Samaria. They send between 30,000 and 40,000 pieces each month.
Israel says the blockade is needed to prevent Hamas from importing weapons or materials that could be used to make them, as it has done in the past. However the blockade has also caused Gaza's exports to evaporate and hurt the local economy.
Hassan Shehadeh, who employs some 50 Palestinians in textile work, says he has managed to regain 20 percent of his business since last year. In his factory in the upscale neighbourhood of Sheikh Radwan, in the north of Gaza City, he produces jeans amid the deafening din of machines and the generators that power them -- an indispensible tool in the Gaza Strip, where electricity shortages are chronic.
Each month, Shehadeh says he exports between 5,000 and 10,000 pairs of trousers to Israel. "I could produce a lot more, but the issue of the crossings worries Israeli businessmen and hinders our work," he said. The market is difficult within Gaza, where unemployment stands at around 45 percent and more than two-thirds of the population depend on humanitarian aid.
"The local market is weak, while trade with Israel is very good," he said. "We have expertise and we could export even further. "For Abdel Nasser Awad, director general in the Gaza economy ministry, exporting to Israel is "a purely commercial affair". "All that we are interested in is boosting our economy and fighting unemployment," he said.
Shehadeh puts it much more bluntly."Politics and business are not the same thing," he said. "You can be an enemy in politics, but not in business."
המפעל בעזה שמייצר כיפות. צפו
במפעל אחד בלבה של רצועת עזה, עמלים יום וליל על ייצור של כיפות ליהודים. למרות האיבה בין העמים, במפעל מקווים להמשיך ולייצר כיפות - ולייצא אותן לישראל. "אין לנו בעיה לייצר מוצרי דת גם למי שאינו מוסלמי", מבהירים שם. הצצה למפעל שנותן תקווה לימים טובים יותר
עמית ולדמן | חדשות 2 | פורסם 15/03/17 14:29