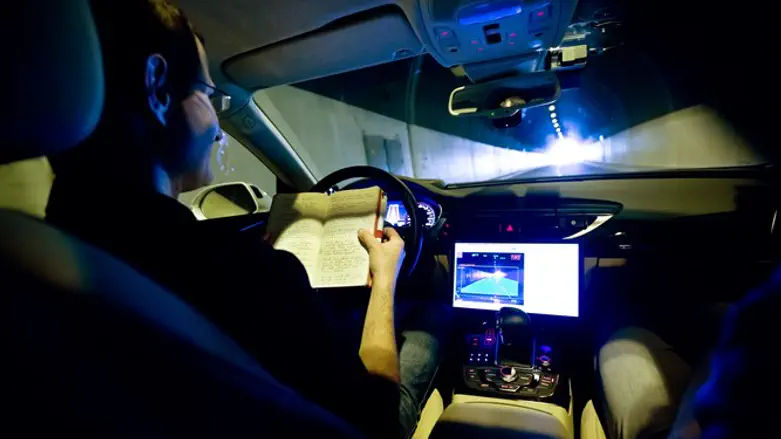 Using Mobileye
Moshe Shai/FLASH90
One day after US computer chip giant Intel agreed to buy Israeli car technology firm Mobileye in a deal worth more than $15 billion, Mobileye CEO Ziv Aviram met with Transportation Minister Yisrael Katz, Yediot Ahronot reported.
"When we established Mobileye, we had an absurd little dream, to fight against the traffic accidents which claim the lives of a million and a half people each year," Aviram said during his meeting with Katz.
Now that Mobileye is part of "the giant machine of Intel, we will establish the largest center for autonomous cars right here in Israel. We will be an example to the world. We are very excited about the transaction and it is very important for us. I would like to thank the media for their positive coverage and well-wishes [for us]."
Yaniv Garty, the General Manager of Intel Israel, said: "All of Intel's global operations in this field will be managed from Israel. This is a vote of confidence both in the company and in Israeli regulations. It will take more time to close the deal."
Mobileye is the world leader in autonomous car technology.
Last year, car company BMW announced that it was joining forces with Mobileye and Intel on a self-drive project for "highly and fully automated driving" to be commercially available by 2021.
BMW announced in January it would deploy 40 self-driving vehicles for tests in the United States and Europe.
In August, Mobileye and UK-based auto-equipment maker Delphi said they were teaming up to develop an autonomous driving system which would be ready for vehicle-makers in 2019.
Mobileye, which also develops systems for accident avoidance, has concluded an agreement with Volkswagen on road data technology as well.
The Israeli firm was founded in 1999.