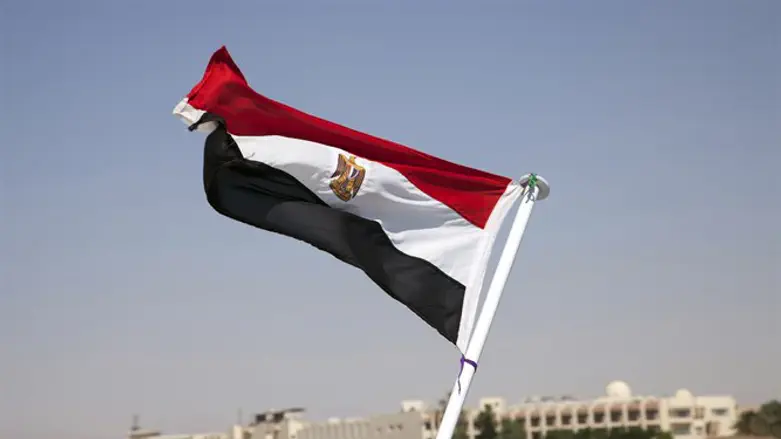 Egyptian flag
iStock
An Egyptian court on Wednesday sentenced six Israelis and three Egyptians to life in prison after they were convicted of spying for Israel, Middle East Monitor reported.
The case, which dates back to 2013, is commonly referred to in the Egyptian media as the "Ovadia" spy ring trial, supposedly named after an Israeli intelligence officer who played a key role in the plot, according to Egyptian prosecutors.
Citing an Egyptian source, the Turkish Anadolu agency reported that two of the Egyptian defendants, Ouda Talab Ibrahim Barham and Salama Hamed Farhan Abu Grad, attended the trial while a third, Mohamed Ahmed Aiada Abu Grad, along with six Israeli citizens were sentenced in absentia.
The Israelis allegedly consist of four military intelligence officers and two Arab Israelis.
The ruling was issued by the North Sinai Criminal Court, and is subject to appeal, according to the source. Life sentences in Egypt last for 25 years.
In 2015, an Egyptian court sentenced to jail a man convicted of "spying for Israel" in the Sinai Peninsula.
Two Israeli accomplices of the jailed Egyptian were tried in absentia and also given life terms.
That verdict was handed down several weeks after an Egyptian man was sentenced to life in jail and a woman to 15 years for spying for Israel.
Egypt has in the past found creative ways to blame Israel's Mossad intelligence agency for meddling.
In 2010, a governor in the country famously accused Mossad of sending sharks to attack tourists and harm the economy. Later, a stork was detained by Egyptian police over fears that it was being used by Israel for spying.
In October 2011, Israel freed 25 Egyptians in exchange for Israeli-American Ilan Grapel who was detained for four months on similar charges in Egypt.