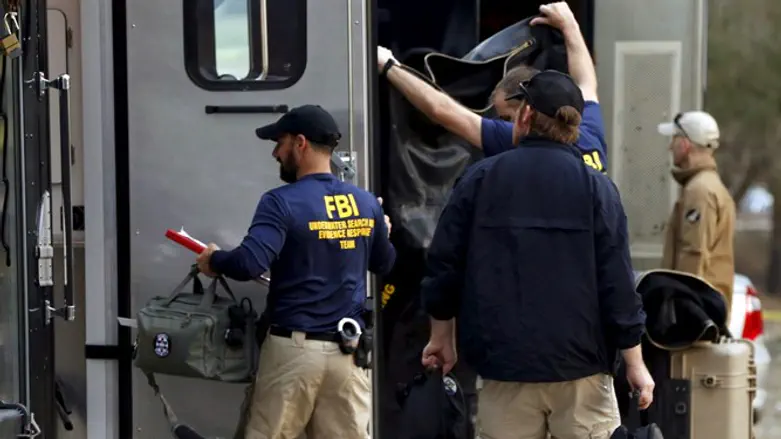 FBI officers
Reuters
Bomb threats have been emailed to four Jewish community centers following a wave of threats that targeted 16 Jewish institutions on Tuesday.
JCCs in Colorado, Delaware, Connecticut and western Canada received bomb threats via email either Tuesday night or Wednesday morning, according to local reports and Paul Goldenberg, director of the Secure Community Network, which coordinates security across Jewish organizations. Goldenberg was unable to specify where in western Canada the threat was received.
The emails, according to Goldenberg, appear to be the tail end of a wave of bomb threats Tuesday that targeted JCCs, Jewish day schools and several offices of the Anti-Defamation League. It was the sixth such wave since the beginning of the year. In total, more than 100 bomb threats have been made against Jewish sites since the beginning of the year, all of them hoaxes.
The Boulder, Colorado, JCC sent an email to members shortly after 3 a.m. Wednesday notifying them of the threat and saying that law enforcement had given the JCC permission to resume operations.
"We take the safety and security of our families, our community, and our staff as a top priority," the email said, adding that "the continuation of these threats across the country to JCCs, other Jewish institutions, and the Boulder JCC is very disheartening."
The JCC in Wilmington, Delaware, has received four threats, including one sent overnight Tuesday. Seth Katzen, CEO of the Jewish Federation of Delaware, which shares a building with the JCC, said he doesn't know why they've been targeted so many times.
The Birmingham, Alabama, JCC has also received four threats, and several other sites have received three.
"We haven't seen that drop that other communities experienced," Katzen told JTA Wednesday. "We're a resilient and strong community. We don't want to give in."
But he added, "There is a wear and tear, no question."