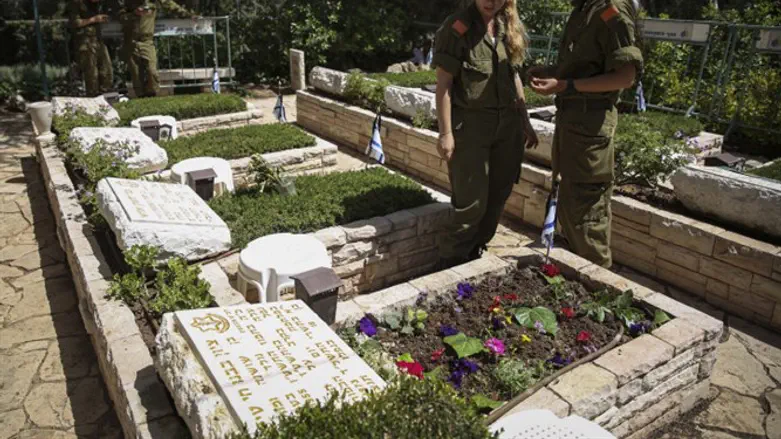 Military cemetery (illustrative)
Hadas Parush/Flash90
JTA - The headstone of an American soldier killed in World War II was replaced with one bearing a Star of David, according to his wishes.
A headstone replacement ceremony was held on Feb. 28 at the National Memorial Cemetery of the Pacific in Honolulu, Hawaii, according to a report on Friday on the United States Air Force news website, 15th Wing.
Staff Sgt. Jack Weiner, a navigator for the 345th Bombardment Group, was killed during an air raid on Aug. 10, 1945, days before the surrender of Japan. He was the only son of a Jewish immigrant mother from Russia. and had enlisted despite being excused from the draft.
Originally buried at Yokohama Cemetery, located in Japan, Weiner's remains were moved to the National Memorial Cemetery of the Pacific in Mach 1949. It was during this transition that a mistake was made and Weiner ended up with a Christian Cross on his headstone, instead of the Star of David, according to 15th Wing.
First Lt. Rabbi Levy Pekar, who serves from Nellis Air Force Base in Nevada, told 15th Wing that he first heard about Weiner and the mix-up of his headstone from one of the navigator's cousins. He said it took "some digging," but he was able to find the Quarter Master General's form that "confirmed Sgt. Weiner's wishes to have the Star of David on his headstone."
"Sgt. Weiner's story resonated with me on so many different levels," Pekar said. "With both of us being Jewish and Airmen, I felt like his story could have easily been mine. His story affected me on a spiritual level and as my duty as chaplain I knew we had to correct this mistake."
Over 30 members of the Honolulu Jewish community, both military and civilian, attended the headstone replacement ceremony and recited Kaddish for Weiner.