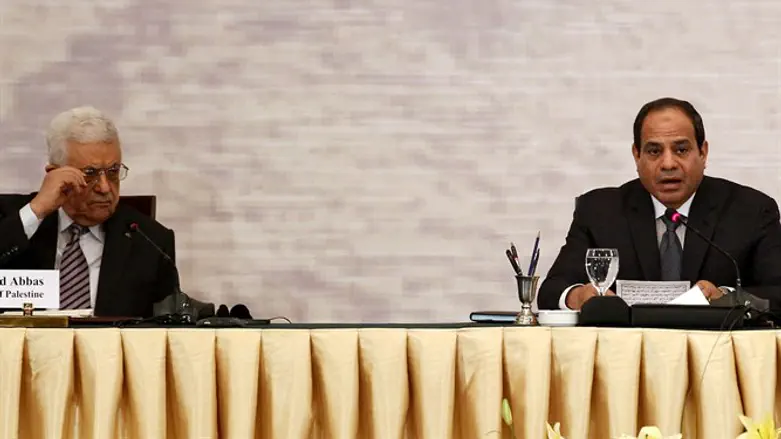 Abbas and Al-Sisi
Reuters
Palestinian Authority (PA) chairman Mahmoud Abbas objected to last year's efforts to launch a regional peace initiative with the participation of Prime Minister Binyamin Netanyahu, causing tensions with Egypt, Haaretz reported Sunday night.
The newspaper reported earlier on Sunday that Netanyahu last year offered a plan to form a unity government with opposition leader Yitzhak Herzog as part of a regional peace bid, but later backtracked.
According to information obtained by Haaretz, Egyptian President Abdel Fattah al-Sisi agreement to host a regional summit attended by Netanyahu as part of the plan that was ultimately cancelled. That fact has caused great friction between Abbas and the Egyptian president, even leading Egypt to bar Fatah Central Committee Jibril Rajoub from entering the country.
PA sources familiar with the details told the newspaper that Abbas, convinced that Netanyahu would not lead a serious effort to advance the peace process, vehemently opposed the holding of a peace conference in Paris and any measures to promote the two-state solution.
The PA leader, said the sources, believed that Netanyahu was cooperating with the push for a regional peace agreement in order to shake off responsibility and in hopes of pressuring the Palestinians into additional concessions.
"Unfortunately, Sisi agreed to play this game, and Kerry, who knew he was nearing the end of his own term, sought to present some kind of achievement," one PA official told Haaretz.
"To the Palestinian leadership it was clear that there was no intent to advance a move like this and this compartmentalization, as if such a dramatic move could be led through Egypt, was a fundamental error by Egypt and also by Kerry," the official added.
"We've had our fill of empty declarations and the avoidance of any serious plan to advance the peace process," a senior Palestine Liberation Organization (PLO) official told the newspaper. "We understand that Egypt has its interests but we will not agree for them to be at the expense of the Palestinian national interest."
The official noted the Saudis also understood the implications of the move and weren't hurrying to jump into the game; it's doubtful they would have attended such a summit, he said.
Abbas's associates noted that during the last months of the Obama administration he had spoken on several occasions of the importance of the PA making its own diplomatic decisions, and that the Palestinians would not accept having strategic decisions imposed on them by any country, including the Arab countries. In this context these sources noted that Abbas was referring particularly to Cairo, and this is what had caused the tensions between him and Sisi.
These tensions have led Cairo to court former senior Fatah official Mohammed Dahlan, Abbas's longtime rival who was forced out of the movement and now lives in exile.
During the past two months, according to Haaretz, there have been three conferences at an Egyptian resort attended by PA Arabs identified with Dahlan, most of them from Gaza.
Egypt has also increased the hours of operation of the Rafah border crossing and has started talks with Hamas, including with its senior leader Ismail Haniyeh, who recently met in Cairo with Egyptian officials to discuss ways to improve the strained relations.
Officials in Ramallah say that contacts between Egypt and Hamas are a result of the disagreements between Sisi and Abbas over the regional peace effort and are not themselves the reason for the tensions, as some have claimed.