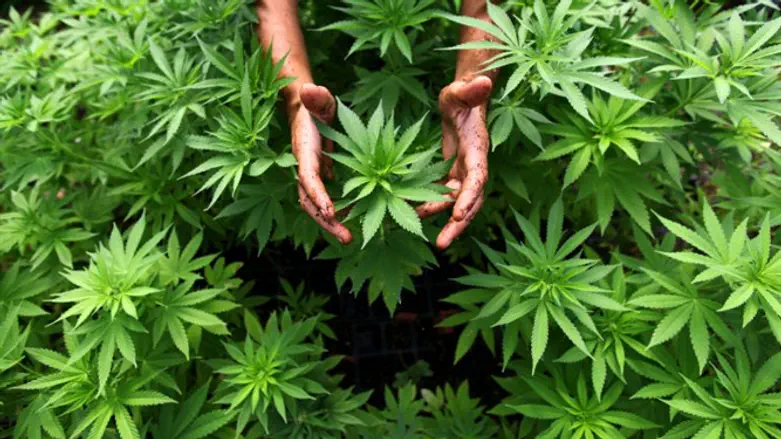 Marijuana in Israel
Abir Sultan/Flash 90
The Israeli government on Sunday approved a plan to partially decriminalize marijuana use in public in favor of fines and treatment, officials said.
First-time users who confess will be fined 1,000 shekels ($270, 255 euros). The fine will be doubled on the second offence, with the third time forcing a probation period on the user.
Police will refer a user to criminal procedures only on the fourth time they catch someone in possession of or using cannabis in public.
The plan, based on recommendations from a committee set up to study the issue, applies only to instances of personal use. Producing, selling and buying cannabis remain illegal in Israel.
Public Security Minister Gilad Erdan (Likud) called the approval "an important step on the way to implementing a new policy that will emphasize education and treatment instead of criminal enforcement."
Erdan had formed the committee in July when tasking his director general with examining Israel's enforcement policy on the personal use of cannabis.
Sunday's decision was met with mixed feelings by two of the lawmakers most active in reforming Israeli law on cannabis.
Sharren Haskel, a lawmaker from Prime Minister Binyamin Netanyahu's Likud, said the decision was "an important step but not decriminalization," since users could ultimately face criminal charges.
Haskel said the decision will allow police to "continue hounding cannabis users", and she vowed to push for full decriminalization.
Tamar Zandberg of the opposition Meretz party welcomed the decision, which she said was "a message that a million Israelis who use cannabis aren't criminals," noting she would ensure the recommendations were implemented.
The government will form an inter-ministerial committee to implement the new policy that will submit its recommendations by May 7, the decision read.
The shift in policy comes on the heels of Israeli ministers endorsing a draft bill to legalize export of cannabis for approved medical use last month.
Justice Minister Ayelet Shaked said on Sunday that "Israel can't ignore the changes around the world on the use of cannabis and its effects".