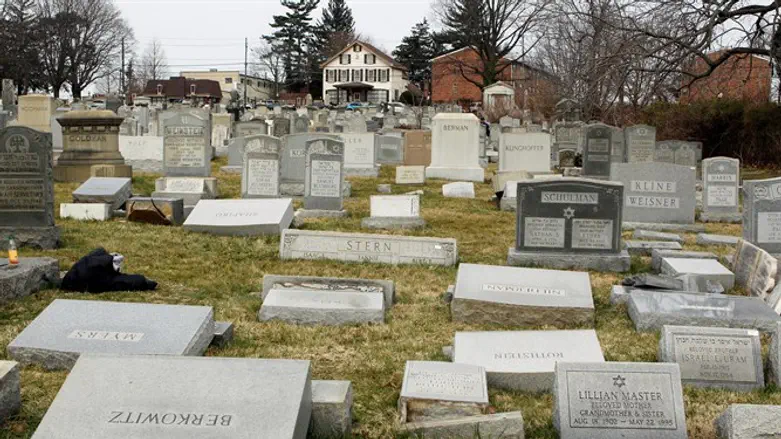 Vandalism in the Mount Carmel Cemetery in Philadelphia
Reuters
Several headstones at Brooklyn's predominantly Jewish Washington Cemetery were vandalized on Saturday night (EST).
The New York Police Department and the Hate Crimes Division are investigating the incident's background.
NY State Assemblyman Dov Hikind tweeted, ".@BPShomrim alerted me that stones @ Washington Cemetery are down. I've spoken w/ the NYPD who are investigating. I'll be there in the am."
Israeli Consul in New York Danny Dayan told Kol Israel Radio on Sunday morning (Israel time) that the Jewish community is worried about the recent wave of anti-Semitism in the US. He also said parents are pulling their students out of Jewish community centers.
However, Dayan said those who believe there is a connection between the anti-Semitic incidents and US President Donald Trump's election are mistaken and have no basis for their claims. In addition, he pointed out that many anti-Semites supported Bernie Sanders.
This is not the first time an American Jewish cemetery has been vandalized. Last Thursday, five headstones were toppled at the Rochester cemetery in New York. Last weekend, dozens of tombstones were overturned at the Jewish cemetery in Philadelphia.