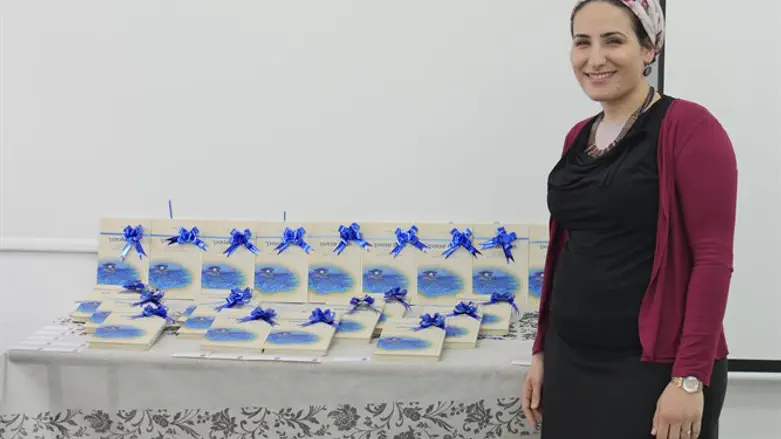 Galit Friedman at the book launch
Ariel Cohen-Salki
On Tuesday author and coach Galit Friedman launched her new book "The Life Within You." Speaking with Arutz Sheva, Galit spoke about how her book was born and the surprising event which led her to become a life coach.
What made you decide to write a book?
After my sons were born, after so many difficulties, I realized I had something to say, I learned things and I wanted to share them with other people.
I felt it's something inside me that must get out. But I couldn't just say it - I needed to understand myself first. In the meantime, a few things happened. One, I started to help other women - not formally, and I saw it succeeding. It was going great, and they appreciated my help and we saw babies born due to this help.
The other thing is that I started to learn in Michlelet Kavana (a coaching school - ed.) in Jerusalem.
What made you decide to learn in Michlelet Kavana?
It's a funny story. My husband said - what do you say we do something together? Let's enrich ourselves, together. And then I said, wow, for the whole year? And he said - yes. I think it will be good for both of us.
So you did a coaching course with your husband?
Yes. And we went just for fun. He went to enrich himself and I went just for fun, to do something for him. And in fact he finished the year with enrichment and I realized that this is what I want to do in my life - to help other people enrich their lives in an organized fashion, to coach them through their difficulties.
When I needed to decide the field, it was obvious for me. With time, I made some changes in my life. I stopped working as a teacher and started to make the new interest into my main job. And I also had time to listen very carefully, listen inside, very carefully, to think what else I want to accomplish from myself.
There were three main things: to become a lecturer and to sing and to write.
And that's how you decided to write your book.
Exactly. I saw, and I understood that I also want to say things through a book, and the other reason is this is something I really like and I felt it's part of me. I felt the writing is part of me.
When did you start writing your book?
In the month of Nissan (usually April, ed.), almost two years ago.
And you knew, when you started, exactly what the book would look like?
I didn't do it by myself; I went into a program called Yotzim L'or, led by Shmaya David. This is a small group who for nine or ten months - this is the goal - to take your ideas and put them into a book, and to make it a real book that you can publish. And Shmaya helped us, and helped me, step by step, to take all my thoughts and ideas and things I wanted to say and to organize them into chapters and into a book. And I started writing. Every chapter I finished I sent him, and he sent me back with some notes.
Actually, happily, there were always a few notes, but still it kept me on track. But I always knew, this book is going to be published, and it's something that is not my decision anymore. It's supposed to be out. It's pregnant and it's going to be out, no matter what.
How did it feel, to know that you weren't making the decision anymore?
It was wonderful because all the difficulties steer you away from personal decisions, and you just look up and ask, "Okay, what you want from me? Just tell me and I'll go, and I'll do. I know it's not me, it's you. If it was me, I would never be here."
By the way, the amazing thing is I started writing in Nissan, and three months afterwards I became pregnant. I had tried to become pregnant for a long time - but when I started writing my book, and feeling good and free to be the way I am - it happened.
Do you feel that the process of writing the book changed how you help women?
It made it clearer, a little bit more clearly. It made me stronger, made me capable of standing strong, and taught me to say yes. Those are things I went through and I helped women this way. But to feel it and to write it is two different things. It made me stronger. It made me have to stand behind my words. It made my handling of the situation more natural and much easier.
Another thing that I see now is that it made all the pieces of my process into one whole, it made it more complete and unified. What I went through before my first pregnancy, what I went through before my daughter was born, that I helped women, the way I cope with the social circles and my family - it's all unified, complete.
After I finished my book, I started to be grateful for all the things that happened, to say, "Wow look what came of it." And it's not "maybe" - I'm sure it was all for the good, it was worth it.
Your book is in Hebrew now. Are you planning to translate it in the future into English?
Yes, definitely. I think about it very practically.
Your book was published by Dabri Shir. When is it available for purchase?
It appeared in stores on Sunday.
Do you think you're going to write another book?
Oh, I really want to, I enjoyed it so much, it was like dancing on the keyboard for me. I don't see it happening right away, but I definitely see it happening.
What message do you have for your readers, and for those who are waiting to read the English?
For those who are waiting to read in English - don't wait, you should read the Hebrew. But you have what to wait for.
In the meantime - live your life, look for the field you feel most happy and satisfied in, that you feel joy in. and take yourself into it, get into it. Live the way you want without connection to pregnancy. See what change you can do in your life that will make you happier, more satisfied, etc.
That's a message for everybody.
Definitely. It's not just a message for everybody; it's also a book for everybody.
Every woman who reads the book will find herself in it, it will be interesting to her, and she'll get from it many good things.
Even if she doesn't have fertility difficulties.
Yes. Even if she doesn't have fertility difficulties.
Thank you, Galit. I wish you much luck and have a good day.
Thank you.
credit: אריאל כהן סלקי
credit: אריאל כהן סלקי
credit: אריאל כהן סלקי
credit: אריאל כהן סלקי
credit: אריאל כהן סלקי
credit: אריאל כהן סלקי