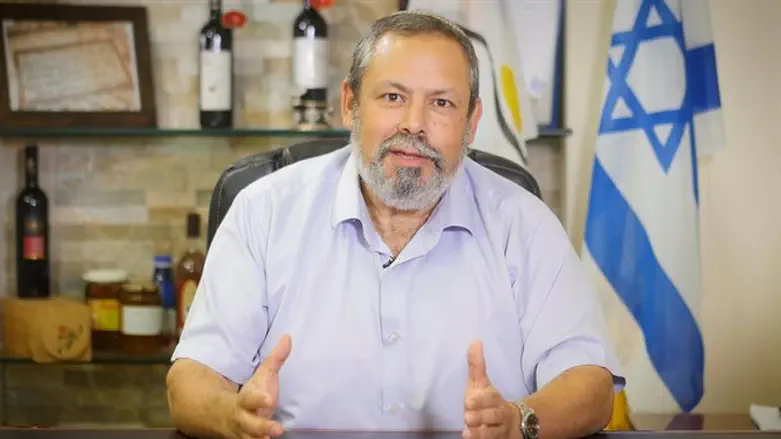 Yochai Damari
Har Hevron photographer
Har Hevron (Hills of Hevron) Regional Council head Yochai Damari responded to the terrorist attack at the Havat Mor (Mor Farm) in which one person was lightly wounded in a stabbing attack.
"Thank G-d through a miraculous turn of events and with great resourcefulness, Shabtai, the owner of the farm, managed to get to his revolver and neutralize the terrorist who entered his house. In the adjacent room his wife and young child were sitting. Tonight is their wedding anniversary - which will now also be a celebration of their miraculous salvation."
Damari added that "in the past few weeks we have had some quiet due to the dedicated work of security forces but the quiet should not fool us. There is an enemy there whose goal of killing us does not cease from his first breath until his last breath. Referring to this enemy as a partner is a mistake and ruins any possibility of peace and dialogue with those worthy of such overtures."
"From afar, our mistaken and myopic brothers may view Judea and Samaria as the 'dark mountains' and paint all the Arabs with the same brush. Those who demand of us to accept terrorists and view them as human beings are the main reason that there is no peace. I call on the government and the IDF forces in the region to banish the terrorists from the Har Hevron area."
Damari said that the incident should be treated as if the terrorist had succeeded in achieving his goal. He said that the security forces should act against the terrorists and their families who are known to the IDF. "Cleansing the area of these people will be the major factor enabling coexistence in the Har Hevron region and in the entire country," concluded Damari.
Initial investigations of the attack revealed that the 33-year-old owner of the farm heard noises and went outside. He met the terrorist, armed with two knives and ran back into his house to get his revolver but the terrorist managed to stab him in the back and limbs before being shot dead. The terrorist was identified as Sa'ad Muhammed Ali Kissiyah, a 24-year-old resident of Dahariya.
MDA paramedics arrived at the scene and treated the wounded man, who was not evacuated to hospital. MDA senior paramedic Shmuel Koren said that "when we arrived on the scene we found a fully conscious man walking around. We gave him medical treatment and he is in light condition."
After the attack, the IDF entered Dahariya and interrogated family members of the terrorist.