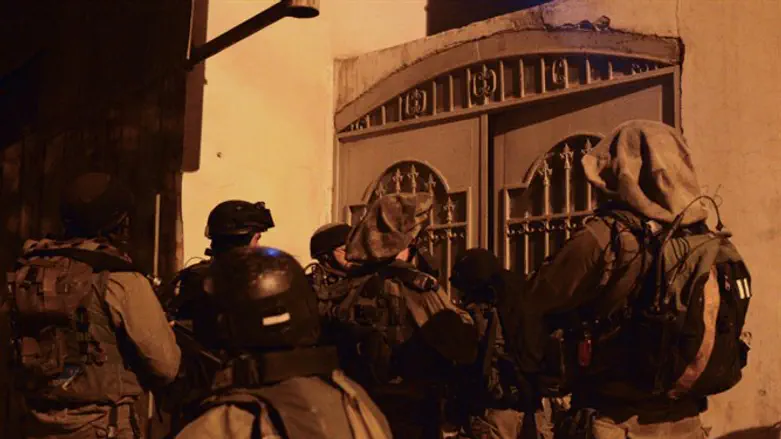 IDF night raid (illustrative)
Flash90
Security forces operating in Judea and Samaria overnight apprehended 18 suspects, including members of the Hamas terror organization, and uncovered a hidden weapons cache south of Hevron.
The predawn raids were conducted jointly by the IDF, Shin Bet internal security agency, and Judea and Samaria district police early Monday morning.
A total of 18 wanted individuals were captured in the raids, including 13 terrorists suspected of violent attacks on Israeli civilians and security forces. Four members of the Hamas terror organization were among those arrested Monday morning.
The raids took place across Judea and Samaria, with three suspects apprehended near Shechem, including one Hamas terrorist in Askar.
Near the city of Ariel in Samaria three terrorists were captured, including one in Kifl Hareth and two in the neighboring village of Hares.
In western Samaria two terrorists, including one member of Hamas, were nabbed in Azzun, east of Alfei Menashe and Kfar Saba.
One suspect was captured on the outskirts of Jerusalem in the village of Kafr Aqab.
In the Gush Etzion area south of Jerusalem, two wanted individuals were arrested in Azariya, and an additional two in Zurif. Two suspects were taken into custody in Hussan, near Beitar Illit, and an additional suspect nabbed in Beit Sahour.
One terrorist was captured in Yatta, south of Hevron, while another was arrested in Beit Awa, near the Green Line, due west of Hevron.
During operations in Yatta, authorities found a hidden arms cache containing large quantities of ammunition and military equipment.