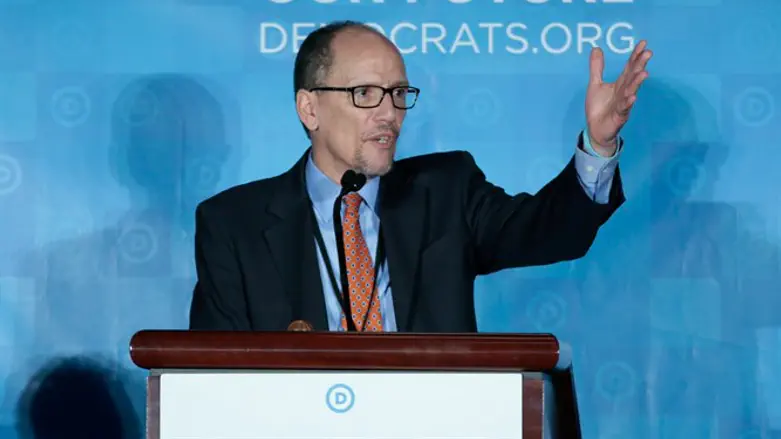 Tom Perez
Reuters
Former Labor Secretary Tom Perez on Saturday was elected the next chairman of the Democratic National Committee (DNC).
According to The Hill, Perez won with 235 votes on the second ballot, with 218 votes needed to reach a majority, defeating the controversial candidate Rep. Keith Ellison (D-MN).
Former Vice President Joe Biden and other key figures from the Obama administration supported Perez, who backed Hillary Clinton in the Democratic primary.
Ellison, the first-ever Muslim elected to Congress, was backed by Sen. Bernie Sanders, who challenged Clinton for the Democratic nomination and lost.
Ellison came under fire from Jewish groups, such as the Republican Jewish Coalition and the Zionist Organization of America, for his sharp opposition to the Israeli government and past support for Nation of Islam leader, Louis Farrakhan.
In an audio recording publicized by the Investigative Project on Terrorism, Ellison can be heard accusing Israel, through elements of the American Jewish community, of dominating the United States.
Ellison denied the charges, claiming the recording was "taken out of context," though a complete transcript of the meeting has been released.
He was also condemned by leading Democratic donor Haim Saban, who used particularly strong language when he referred to Ellison as "an anti-Semite and anti-Israel individual."
Perez, the 55-year-old son of Dominican immigrants and the first ever Latino to lead the DNC, named Ellison the deputy chairman of the DNC in his first act in office.
"We are united in our love for the Democratic Party," he said. "The robust discussions that go on in the Democratic Party - we have spirited discussions and then we all lock hands and celebrate our shared interests."


Meanwhile, President Donald Trump sarcastically congratulated Perez on his victory on Saturday, writing on Twitter, "Congratulations to Thomas Perez, who has just been named Chairman of the DNC. I could not be happier for him, or for the Republican Party!"