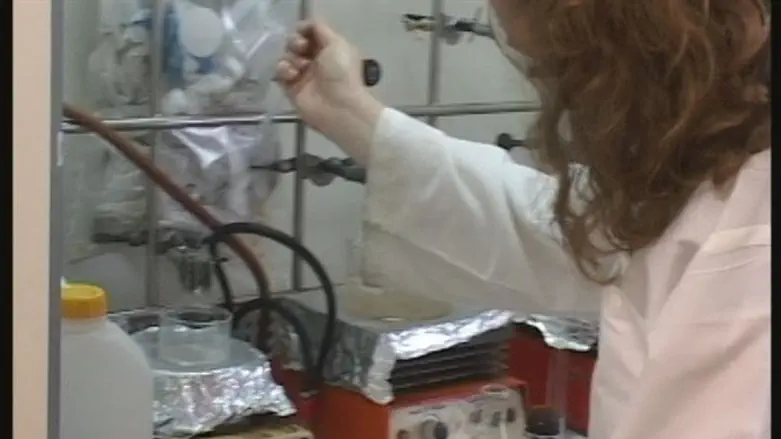 Bar-Ilan Nanotechnology Triplex
Yoni Kempinski
Physicist Mildred Dresselhaus, the daughter of impoverished Polish Jewish immigrants whose pioneering research into the thermal and electrical properties of carbon earned her the nickname "Queen of Carbon," has died.

Dresselhaus, who also was an advocate for women in science fields, died Monday at 86.

Her research was foundational to the field called nanoscience, in which matter is manipulated at an atomic and molecular level. Her pioneering work earned her the $1 million Kavli Prize in Nanoscience in 2012, the National Medal of Science, the Presidential Medal of Freedom and IEEE Medal of Honor, the highest award of the Institute of Electrical and Electronics Engineers.

Dresselhaus had gained wider fame in recent weeks with her starring role in a television commercial promoting General Electric's efforts to promote women in science. The commercial, titled "What If Scientists Were Celebrities?" imagines a world in which young girls dress up as Dresselhaus, glossy magazines feature her on their covers and gossip columns keep tabs on her comings and goings.

Abbi Jacobson, the Jewish actress who stars in "Broad City," appears briefly in the ad as a Dresselhaus fan.

Dresselhaus, nee Mildred Spiewak, was born in the Flatbush section of Brooklyn in 1930 and grew up in the Bronx.

"The Bronx, I remember, was a very poor neighborhood, but that was all that immigrants could afford at that time," she recalled in a 2013 interview. "Life was tough. I grew up -- my father didn't have a job, but there weren't too many people who did have jobs."

The prestigious Bronx High School of Science was not open to girls in her day, so she attended the selective Hunter College High School in Manhattan. She received a bachelor's degree in 1951 from Hunter College, where she took an elementary physics class with another daughter of Jewish immigrants, Rosalyn Yalow, a future Nobel laureate in medicine. Dresselhaus often said it was Yalow who pushed her to go down the path of science and physics at a time when educated women were expected to become secretaries, nurses or teachers.

Dresselhaus went on to earn a master's degree from Radcliffe College and a doctorate from the University of Chicago.

Two years after her marriage to fellow physicist Gene Dresselhaus in 1958, both were offered faculty positions at MIT. In 1968 she became a professor at MIT, where her research led to advances in carbon-based materials used in solid-state electronics.

As early as the mid-1970s she became a public advocate for women in engineering and science, and mentored countless young women during her time at MIT. Later in her career, MIT named her institute professor emerita, its highest distinction, and she continued teaching and researching until shortly before she died.

"I've been lucky," she said in 2013. "I've been at a place that's a meritocracy. It doesn't really matter that much what your gender is if you do the work well. I think women benefit from being in places and having positions where the quality of work is the criteria, not what you look like. Not every place is like that."

Dresselhaus is survived by her husband, their four children and five grandchildren.