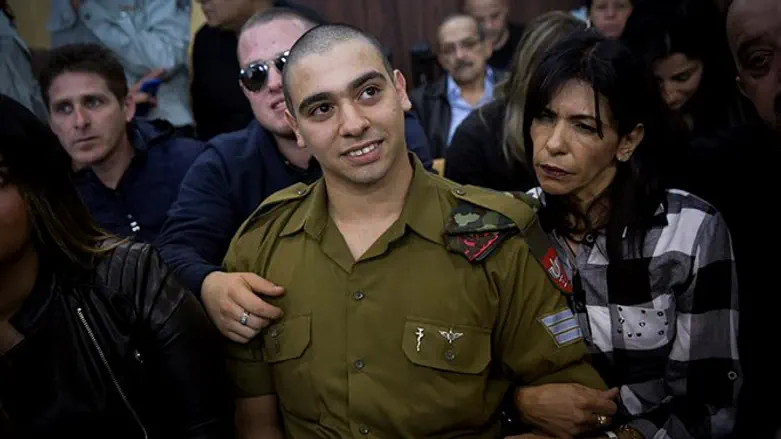 Elor Azaria
Flash 90
A new report published this morning indicates that a majority of Jewish Israelis are in favor of a presidential pardon being granted to soldier Elor Azariya, convicted of manslaughter for shooting a wounded terrorist in Hevron.
According to a poll released this morning by Yisrael Hayom, 63% of Jewish Israelis are in favor of such a pardon, while 24% are against leniency.
13% of respondents said that they "don't know."
Numerous politicians following the announcement of the 18-month sentence on Tuesday similarly called for Azariya to be pardoned. On Wednesday, Deputy Foreign Minister Tzipi Hotovely wrote to President Rivlin that a pardon was required "to ensure the nation's unity and their belief in IDF soldiers."
"We need to ensure the nation's unity and their belief in IDF soldiers," she wrote. "There is no question we need to ensure proper firing protocols, but Elor Azariya's case is unique. He is a young soldier who ended up at the scene of a terror attack during a cruel terror wave. Both the right and the left agree he should be pardoned."
On the other hand, Azariya's attorneys noted that, while the sentence was on the lower end of possible sentences in light of the conviction, they intend to appeal the manslaughter conviction itself, and they see a good chance for a successful appeal.
"The military prosecution was thirsty for Elor's blood, and the sentencing proves this. The fact that the judges determined a sentence that is half of the minimum demanded by the prosecution proves that they were thirsty for Elor's blood," said Yoram Sheftel, an attorney on the defense team.
Defense attorneys Ilan Katz and Eyal Baserglick similarly said that "the sentence is completely different than the verdict. There is a lot of evidence that was not accepted for the verdict - among it the impact of statements made by the then-Defense Minister and the Chief of Staff about the judicial process - but was accepted in the sentencing. We are seeking an appeal; there is enough qualifying evidence."