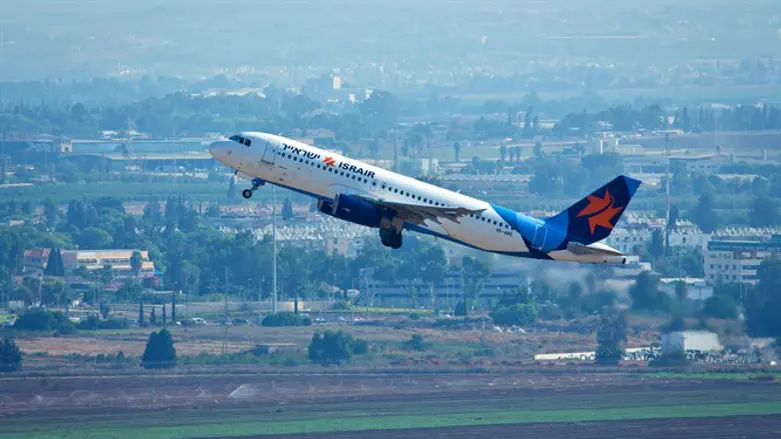 Problem at takeoff. Israir.
Moshe Shai/FLASH90
An Israir flight that was supposed to have flown to Bulgaria this morning was stopped on the runway after a problem was noticed in its engines, and its passengers were removed.
"A", one of the passengers, related, "complete chaos this morning on flight 711 of Israir. The plane got on the runway, started to take off, and suddenly braked, and immediately afterward emergency teams came onto the runway."
"A" related that a heavy smell of smoke filled the air. "The pilot announced that there was a problem with one of the engines, and the passengers had to get off again and wait without knowing when, if at all, there would be a replacement flight."
"In days when trust in El Al is lacking, it is expected that competing companies give outstanding service," A asserted.
Israir said in response, "During takeoff a warning light turned on. The flight was stopped, the plane returned to terminal and the passengers got off the plane. The passengers received coupons for breakfast. At this stage, additional checks are being undertaken to verify that the problem is dealt with and, in parallel, the company is preparing a substitute plane."
"Safety and security of passengers is our utmost concern and, in cases like this, even if there is a delay in the flight, the company won't let a flight depart when there is not complete confidence that everything is working properly," the company said.