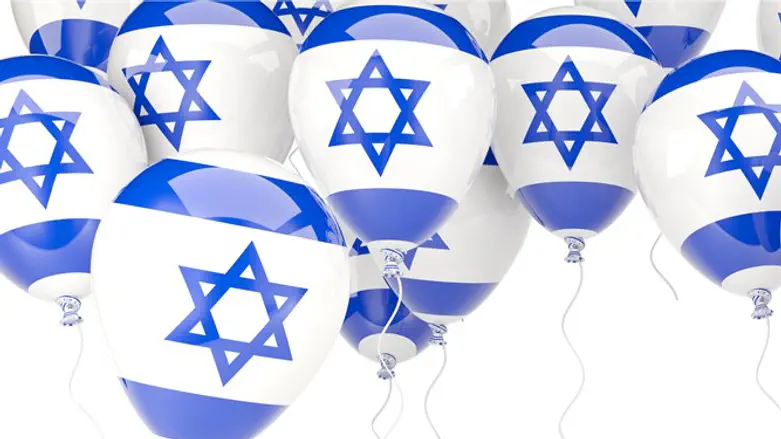 Israeli flag balloons
Thinkstock
Another 102 members of the Bnei Menashe Jewish community, which claims descent from one of Israel's lost tribes, are being brought on Aliyah this week by Shavei Israel, a Jerusalem-based nonprofit that aims to strengthen ties between the Jewish people and descendants of Jews around the world.

The 102 new immigrants all hail from the northeastern Indian state of Mizoram, which borders Burma and Bangladesh and is home to the second-largest concentration of Bnei Menashe in India after that of the state of Manipur. This marks the first time since Jan. 2014 that Bnei Menashe will be making Aliyah from Mizoram. Thirty of the new immigrants will arrive in Israel on Tuesday, Feb. 14, and 72 will arrive on Thursday, Feb. 16. They plan to settle in the Galilee city of Nazareth Illit which already has a flourishing Bnei Menashe community.

"We are excited to be launching Operation Menashe 2017 with the Aliyah this week of 102 Bnei Menashe from Mizoram," said Shavei Israel Founder and Chairman Michael Freund. "Over the course of the coming year, with G-d's help, we will bring a total of more than 700 Bnei Menashe immigrants to Israel – the largest-ever airlift in a single year."

Freund added: "After 27 centuries of exile, this lost tribe of Israel is truly coming home. But we will not rest until all the remaining Bnei Menashe still in India are able to make Aliyah as well."

The Bnei Menashe are believed to be descendants of the tribe of Manasseh, one of the Ten Lost Tribes exiled from the Land of Israel more than 2,700 years ago by the Assyrian empire. So far, some 3,000 Bnei Menashe have made Aliyah thanks to Shavei Israel, including more than 1,100 in the past four years. Some 7,000 Bnei Menashe remain in India waiting for the chance to return home to Zion.

Also arriving with the group are Mizmor Sharon and her two children. Mrs. Sharon's husband, Shomron, died two weeks ago after a long battle with cancer, while the family was still in India waiting to make Aliyah.

"My children and I are heartbroken that their father didn't live to see his dream of making Aliyah come true," said Mrs. Sharon. "But we are excited to be making this journey and to honor his legacy by building our new lives in the Jewish homeland. I am sure that he will be with us in spirit with every step that we take on the holy soil of Israel."