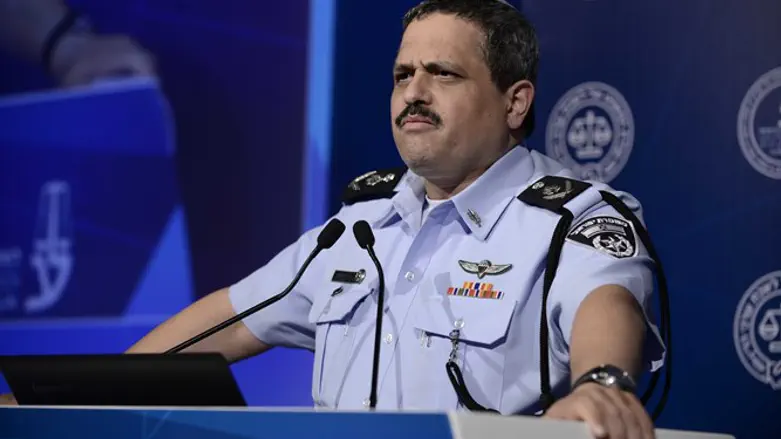 Roni Alshich
Tomer Noyberg, Flash 90
The left-wing "Rabbis for Human Rights" organization submitted a request today (Monday) to the Police Investigation Department and the State Comptroller for an investigation into Police Chief Roni Alshich for allegedly making a false statement to the media and for incitement.
The association pointed to the commissioner's statement that six teachers at the school where Yacoub abu al-Qiyan taught were indoctrinating students in ISIS ideology.
Al-Qiyan, the Bedouin who was killed while ramming police during recent Negev home demolition protests, was active in the Israeli Islamic Movement and may have been influenced by the Islamic State group. However, Umm al-Hiran residents denied al-Qiyan's jihadist links, claiming he was a respected teacher.
According to information presented by Channel 10, the commissioner's statement is inaccurate, and makes an isolated incident having at first glance nothing to do with the school curriculum into an established, widespread phenomenon, and creates an incriminating atmosphere against the deceased - whose guilt on charges of intentionally running the policeman over is being determined now - and against children at the school.
"The information appears to indicate a factual discrepancy between Alshich's documented statement and the facts revealed by the Shin Bet's investigation. The factual distortion in Alshich's words are also not negligible; they help feed public suspicion that this is not an isolated case, but that there is a network of ISIS support in the school in question, making it possible suspect other teachers, including Yacoub abu al-Qiyan, of belonging to the murderous terror organization," the letter said.
It was also claimed that "the Police Commissioner has a direct communication channel with the Shin Bet (and certainly Alshich, a former senior Shin Bet official, would). He cannot claim the explanation of insufficient accurate and timely information about the incident. Additionally, a media statement during the funeral of policeman Erez Levy is not in the category of 'shooting from the hip', but is supposed to be considered a well-planned and carefully-weighed statement. How, then, in the commissioner's declaration, does one teacher from the school staff distributing ISIS materials to his friends become six teachers who taught ISIS ideology at the school in question?
"It is difficult not to suspect either shocking and peculiar negligence on the commissioner's part, or deliberate - and misleading - painting the Alsalem school as such whose teachers are liable to be ISIS supporters, thus strengthening the suspicion against Yacoub abu al-Qiyan by using disinformation," added members of the association.