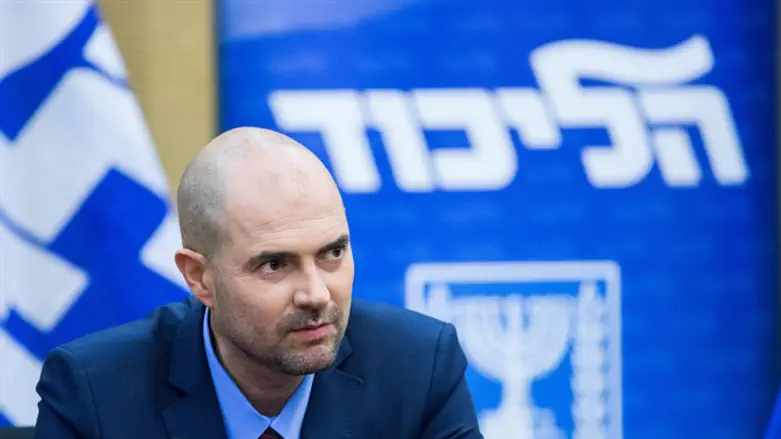 MK Amir Ohana
Yonatan Sindel/Flash 90
MK Amir Ohana (Likud) submitted a proposal to supervise and limit prisoners convicted of murder or attempted murder after they finish their prison sentence.
The law was suggested by the "Organization for the Families of the Murdered," which worked together with Ohana on the law's details. If passed, ex-prisoners who may still pose a threat will be subject to restrictions even after they are let out of jail and regardless of whether they are released early or not.
Currently, only sex offenders are restricted and watched after their release from prison. However, the law does not discuss other ex-prisoners who are also dangerous to the public (such as murderers) but are not sex offenders.
One example of why such a law is necessary is Yishai Shlissel.
In 2005, Shlissel attempted several murders at the Jerusalem Gay Pride Parade, and was sentenced to ten years in jail. In July 2015, two days after he was released, the Gay Pride Parade was again held in Jerusalem, and Shlissel succeeded in killing 16-year-old Shira Banki, and attempted to murder several others.
Had his movements been restricted, Banki's death might have been prevented.
Shlissel is now serving a life sentence.
"The unacceptable ease with which murderous prisoners are released, even if they are considered by all to still be dangerous to the public, must end," Ohana said. "We must apply as many restrictions as possible as soon as possible, and we must supervise them as well. Prisoners who were convicted of murder present a danger to the public when they are freed.
"When the writing is on the wall, the government has an obligation to protect the public and prevent problematic situations, such as the one in which Shira Banki was killed."
"Organization for the Families of the Murdered" Attorney Ruti Eldar said, "This proposal is important for public protection. It fixes the laconic way murder prisoners are freed, which does not take into consideration the danger they present regardless of whether or not they served their full prison sentence."
It is not clear whether the law would apply to terrorists as well as to "regular" murderers. Baruch Mizrahi, 47, was killed by a terrorist released from prison during the "Shalit deal."