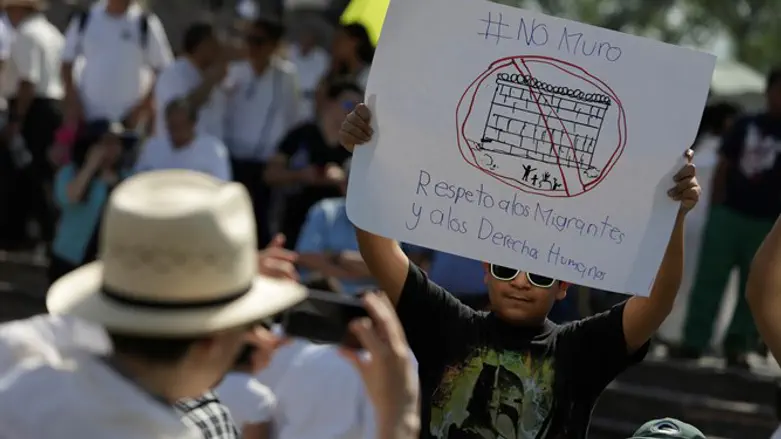 Mexicans protest against Trump
Reuters
Tens of thousands of Mexicans protested on Sunday against U.S. President Donald Trump over his plans to build a wall along the U.S.-Mexico border and make their country pay for it, AFP reported.
"Mexico must be respected, Mr. Trump," said a giant banner carried by protesters in Mexico City, who waved a sea of red, white and green Mexican flags as they marched down the capital's main avenue under the watchful eyes of thousands of police.
In what looked set to be Mexico's biggest anti-Trump protest yet, some 20 cities joined the call to march made by a group of dozens of universities, business associations and civic organizations.
There were 20,000 demonstrators in Mexico City, AFP reported, citing local authorities. Marches in Guadalajara, Monterrey and Morelia also drew thousands of people -- though a planned protest in the border city of Tijuana fell flat.
One of Trump's central campaign pledges was the building of the wall in order to stop illegal migration from Mexico. The plan angered the United States' southern neighbor.
Mexican President Enrique Pena Nieto canceled a January 31 meeting with Trump after the U.S. president signed an executive order kicking off the process of building the border wall and vowed once again to force Mexico to pay for it.
Pena Nieto announced he would not visit Washington after Trump tweeted, "If Mexico is unwilling to pay for the badly needed wall, then it would be better to cancel the upcoming meeting."
The two later held an hour-long phone discussion which was described by Trump as "very friendly".
"We are going to be working on a fair relationship and a new relationship" with Mexico, Trump added at the time.