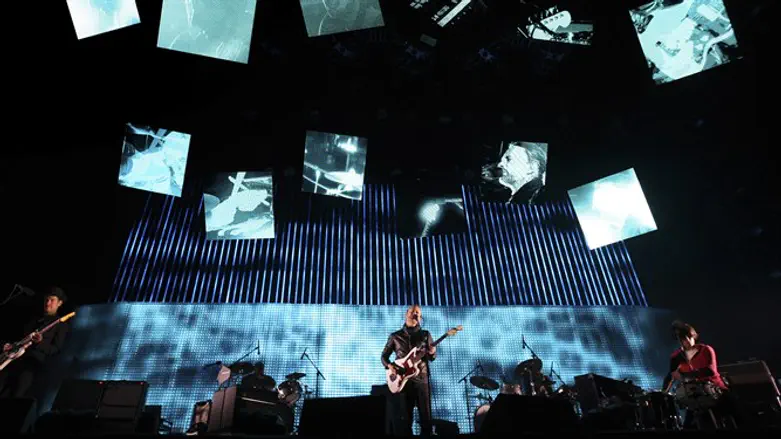 Radiohead in concert
Reuters
The acclaimed British rock band Radiohead will perform in Israel this summer, JTA reports Monday.
The band, which has sold over 30 million albums around the world, will play at Tel Aviv's Hayarkon Park in July, according to the report. The specific show dates and ticket prices have not yet been released.
According to Haaretz, Radiohead became popular in Israel after a version of its song "Creep" was featured in a 1993 commercial for the Israeli fashion brand Castro.
The group performed in Israel that year, then again in 1995 as the opening act for R.E.M.
Radiohead is one of the most successful rock outfits in the world. Its ninth and latest album, "A Moon Shaped Pool," was released in 2016.
In 2015, Radiohead guitarist Jonny Greenwood collaborated with Israeli composer Shye Ben-Tzur on an album called "Junun." The making of the album, which was recorded in the Rasjathan region of India with a group of Indian musicians, was the subject of a documentary filmed by the famed director Paul Thomas Anderson.
The announcement of Radiohead's concert in Israel comes amid continuing pressure on international artists to cancel their shows in Israel.
Recently, fans of Glasgow's Celtic Football Club, notorious for their dislike of Israel and for their support for the Palestinian Authority, started a petition asking popular British rock singer and songwriter Rod Stewart to cancel his upcoming gig in Israel.
Many musicians in recent years have ignored the calls and went ahead with performances in Israel.
One example of an artist who did not cave to the BDS pressure is popular rhythm and blues artist Alicia Keys, who gave a sold out concert in Tel Aviv in 2013.
The pop duo Pet Shop Boys also rejected calls from pro-Arab activists to cancel a Tel Aviv concert. The concert went ahead as scheduled.
Many of the calls to boycott Israel have come from Roger Waters, the former Pink Floyd star who is notorious for his anti-Israel and anti-Semitic rants and who has repeatedly condemned his colleagues who associate with Israel.
Among others, he has called out Jon Bon Jovi, to whom he penned an open letter condemning his choice of performing in Israel and claiming he "had a chance to stand on the side of justice."
Waters had previously called out Alan Parsons, the Rolling Stones, as well as Neil Young and actress Scarlett Johansson.