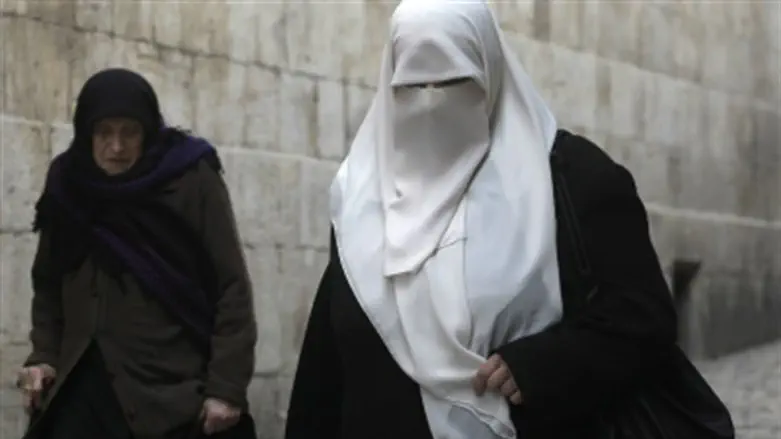 Arab women
Flash 90
Yad L'achim announced last week that in January they had several cases in which Arab women turned to the organization for help and thereby discovered their Jewish identities.
These women had lived their entire lives as Arabs, grew up in Arab villages and were taught Arab beliefs, lived as devout Muslims, and never suspected themselves to be Jewish.
21-year-old L., 40-year-old S., and 30-year-old A. were born to a Jewish mother and a Muslim father, and did not know their mother's true identity. Each woman approached Yad L'achim separately and of her own accord.
"It's hard to discover when you're already older that you have a different identity," a Yad L'achim spokesperson said. "These kinds of situations need to be dealt with differently. This month, we helped three different women deal with something completely different than what we're used to. These women are 'meeting' their new identities for the first time.
"A. was born and raised in the central Arab city of Qalansuwa. She is a Muslim through and through. A month ago, a relative told her, 'Your mother is Jewish.'
"A. did not give up, and did an investigation which proved the relative's claim to be true. Her entire world was shaken up."
"When I found out, completely by coincidence, that I was a Jew, I didn't know what to do," A. said. "I began to quietly learn about Judaism, and people told me that an organization called Yad L'achim could help me return to the Jewish people.
"I contacted Yad L'achim and decided to leave my village and start a new life. I'm progressing slowly. I light candles, I pray, and I'm very connected to Judaism.
"I'm really thankful to Yad L'achim for helping me so quickly, and getting me out safely and without leaving any tracks. And they continue to support me and help me find my footing."
A Yad L'achim spokesperson said, "There's a feeling of excitement every time we see someone discover their Jewish identity. It doesn't go away with time, and you don't get used to it. These people want to connect to Judaism and to start a completely new life.
"These people prove it's never too late. Never despair of a Jewish soul returning to its people. Even if it strays far and seems to be completely disconnected, it may still return.
"We don't give up on any Jews."