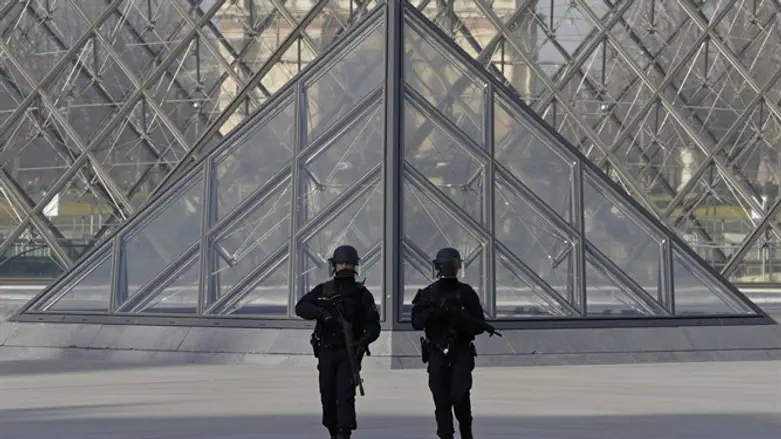 French police secure the site near the Louvre Pyramid
Reuters
An Egyptian man suspected of attacking soldiers at Paris' Louvre museum with a machete this past Friday is refusing to cooperate with authorities, The Associated Press reported Sunday.
The Paris prosecutor's office said the suspect, who allegedly shouted "Allahu Akbar!" while rushing toward the soldiers and was shot four times after slightly injuring one of them, remained silent as he was questioned by French investigators for the first time.
French authorities so far have not named the suspect, but confirmed they thought he was Egyptian as was reported by French media on Friday.
They are being more cautious than their Egyptian counterparts, who have identified the attacker as Abdullah Reda Refaie al-Hamahmy.
Friday's reports indicated that the terrorist entered France on a visa from the United Arab Emirates last week. He was unknown to police.
The Louvre was closed immediately following the Friday attack, but reopened for the weekend.
Hamahmy's father spoke out Saturday to say that his son is not a terrorist, but a family man who led a normal life with his wife and infant son.
Abdullah has lived in Dubai for the past five years, employed by what his father said was a law firm, according to AP.
The Paris prosecutor's office said the attacker was shot after lightly wounding a soldier patrolling an underground mall near the famous Paris museum, but that the injuries are no longer life-threatening.