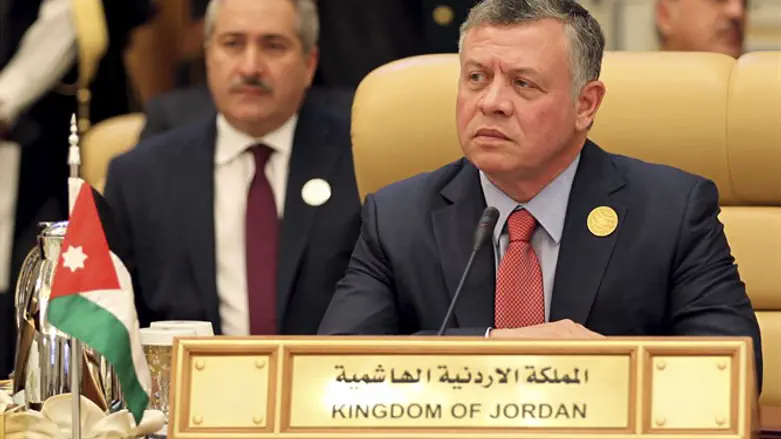 Jordan's King Abdullah II
Reuters
Jordan's King Abdullah warned U.S. President Donald Trump against relocating the American embassy in Israel to Jerusalem in their meeting in Washington on Thursday, Haaretz reported, citing the Jordanian state news agency.
According to the report, the Jordanian King told Trump that moving the embassy could threaten the two-state solution and have a detrimental effect on the Israeli-Palestinian Authority (PA) conflict.
The White House said the two enjoyed a "good conversation" on a range of regional issues, but did not mention the issue of the embassy relocation.
The Jordanian news agency Petra reported that Trump and the Jordanian King "underlined the importance of boosting the strategic ties between the two countries and working together to fight terrorism."
The news agency also said the two discussed the peace process between the Palestinians and Israelis but did not provide details.
Moving the American embassy from Tel Aviv to Jerusalem in recognition of Jerusalem being Israel's capital was a central campaign promise of Trump's.
While Israel has welcomed the move, it has been met with anger among Palestinian Authority (PA) officials.
PA chairman Mahmoud Abbas recently promised a "political and diplomatic response" if Trump moves the embassy to Jerusalem. He did not elaborate.
Previously, Abbas wrote Trump a letter in which he warnedhim against moving the American embassy, saying that such a move would be crossing a "red line" and could jeopardize peace prospects.
Abbas and King Abdullah met several weeks ago to discuss steps to prevent Trump from carrying out his campaign pledge to relocate the embassy.
Despite the campaign promises, things seem to have stalled with regard to the move. Last week, White House press secretary Sean Spicer told reporters that no decision has been made yet on the subject.
Trump, in an interview on Fox News last week, refused to address the issue, saying that "I don't want to talk about it yet. It's too early."
This week, speaking to the Christian Broadcasting Network (CBN), Trump was noncommittal about the move, saying he was still "looking" at the possibility of moving the embassy, but also admitting such a move would not be "easy".