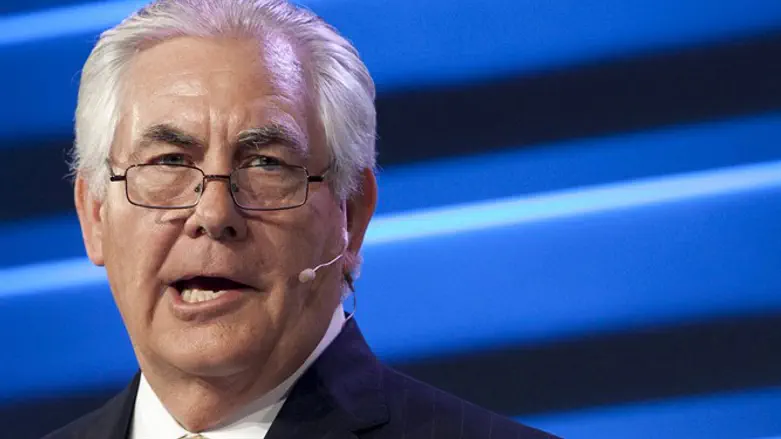 Rex Tillerson
Reuters
Rex Tillerson has been confirmed as US President Donald Trump's Secretary of State Wednesday.
The Senate on Wednesday confirmed secretary of State Tillerson by a 56 to 43 vote. He needed a majority of 51 votes. Tillerson was confirmed despite some lawmakers' concerns about Tillerson's ties to Russia.
Tillerson said at his confirmation hearing before the Senate Foreign Relations Committee.Wednesday that Russia "poses a danger" and that the US has to vigilant about its relationship with the Kremlin.
"Russia today poses a danger, but it is not unpredictable in advancing its own interests. It has invaded Ukraine, including the taking of Crimea, and supported Syrian forces that brutally violate the laws of war. Our NATO allies are right to be alarmed at a resurgent Russia."
Tillerson's strong words regarding Russia come amid criticism from various senators of Tillerson's close business contacts in Russia . As CEO of the largest U.S. oil company, Exxon Mobil, Tillerson developed oil fields in the Arctic Sea, Siberia and the Black Sea in Russia. His contributions to Russia's bottom line was so great that President Vladimir Putin awarded him his nation's Order of Friendship in 2013.
Democratic Senator Martin Heinrich opposed Tillerson's nomination because "negotiating oil deals does not prepare you to be a diplomat advocating for American values" and added that "Right now when we're trying to hold Russia accountable for its illegal aggression in eastern Europe, war crimes in Syria … how can we trust someone to represent our interests to someone with such a cozy relationship with Russia as Rex Tillerson?"
The intelligence community has claimed that Russia tried to interfere in the 2016 U.S. election, and Trump's reluctance to accept it has intensified the rhetoric surrounding Tillerson. Tillerson seemed to allude to this when he stated that recent Russian actions "disregarded American interests" and alarmed U.S. allies, even if cooperation between Washington and Moscow remained desirable on a range of issues.
Tillerson also berated the outgoing Obama administration for failing to live up to "good intentions," withdrawing from critical areas and sending mixed signals to both friends and adversaries.
"China has emerged as an economic power in global trade, and our interactions have been both friendly and adversarial," he said.
"While Russia seeks respect and relevance on the global stage, its recent activities have disregarded American interests. Radical Islam is not a new ideology, but it is hateful, deadly, and an illegitimate expression of the Islamic faith. Adversaries like Iran and North Korea pose grave threats to the world because of their refusal to conform to international norms."
Tillerson's supporters, who include former Secretary of State Condoleezza Rice and former Defense Secretary Robert Gates, point to Tillerson's lengthy career as a senior executive in a mammoth multinational company as proof he has the management and negotiating skills to succeed in the State Department's top post and deal with tough rivals of the US.
Sen. John Cornyn, R-Texas, also praised Tillerson before Wednesday's vote.
"His experience and aptitude and talent will be put to work for the American people," Cornyn said. "He's a man of character who believes in putting his country first."
Defenders such as Sen. Ted Cruz( R-Texas) and arms control expert and former Sen. Sam Nunn ( D-Ga.) said that his understanding of Russia is beneficial for his new post.