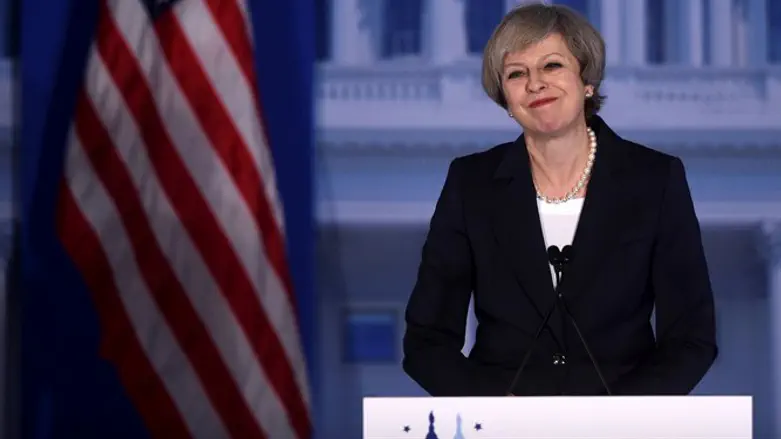 British PM Theresa May speaks to Republican leaders in Philadelphia
Reuters
British Prime Minister Theresa May said on Thursday that Britain and the United States must stand up for friends such as Israel.
Speaking to leaders of the Republican party in Philadelphia ahead of her meeting on Friday with President Donald Trump, May said that Britain and America must "stand up for our interests" but cannot return to "failed" interventionist policies, reported the BBC.
"It is in our interests - those of Britain and America together - to stand strong together to defend our values, our interests and the very ideas in which we believe," she said.
"This cannot mean a return to the failed policies of the past. The days of Britain and America intervening in sovereign countries in an attempt to remake the world in our own image are over.
"But nor can we afford to stand idly by when the threat is real and when it is in our own interests to intervene. We must be strong, smart and hard-headed. And we must demonstrate the resolve necessary to stand up for our interests," stressed May.
"And whether it is the security of Israel in the Middle East or Estonia in the Baltic states, we must always stand up for our friends and allies in democratic countries that find themselves in tough neighborhoods too," she added, to applause from her audience.
The White House announced on Saturday night, 24 hours after Trump was sworn in, that May would meet Trump in Washington, DC, on Friday.
May, like Trump, is considered a supporter of Israel, even though Britain recently voted in favor of UN Resolution 2334, which condemned Israel's presence in Judea, Samaria and eastern Jerusalem.
Despite her country's support of the anti-Israel resolution, May last month slammed former Secretary of State John Kerry's speech in which he blamed Israel for the stalled peace process.
May criticized the disrespectful way in which Kerry referred to the elected government of its democratic ally, Israel, and his singling out Jewish communities in Jerusalem, Judea, and Samaria over and above all other issues.
Britain also chose to only send a delegation of junior diplomats to the recent Paris conference on Israeli-Palestinian Authority (PA) peace.
Britain explained the move in the fact that hit had "particular reservations" with the nature and timing of the conference. The reservations given were the lack of representatives from Israel or the PA at the conference and it taking place "just days before the transition to a new American president."