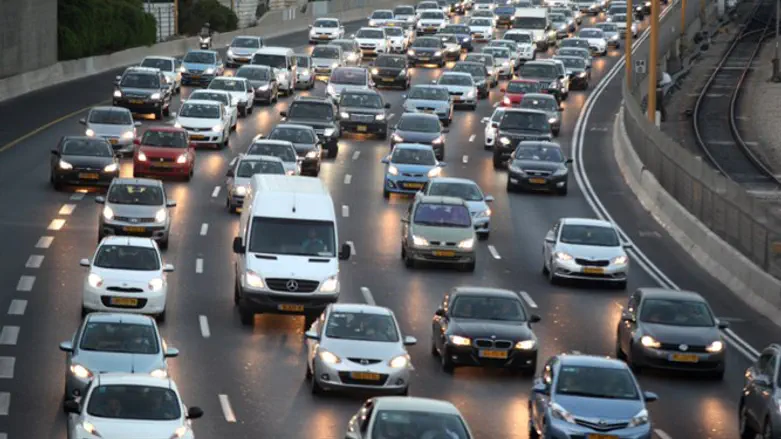 Traffic (illustrative)
Flash90
The Israeli traffic police and border police have adopted new tactics in their efforts to reduce the number of fatalities from traffic accidents on Israeli roads.
As part of the operations, border policemen in camouflage will observe the situation on the roads to identify those driving above the speed limit and other traffic violators.
Vehicles whose drivers violate the law will be photographed and documented so traffic officers can pull them over as much as a few kilometers away and show them where and how they acted illegally.
The police released a statement saying: "The unique collaboration contributes greatly to the safety of drivers on the road in an efficient and qualitative detection of those who put the lives of other drivers at risk."
The observation unit commander said: "The carnage on the roads and the collaboration between the police traffic department and the border police observation unit leads to the apprehension of significant traffic offenders and the [prevention] of predatory behavior on the road. By intelligent deployment of officers on the sides of the road, we are able to assist in creating effective enforcement."
"The officers feel a sense of mission which is different from what they felt when fighting serious crime or terrorism. I am certain that the more we perform these kind of activities, the more we will reduce the number of traffic accidents." he said.
credit: דוברות המשטרה
credit: דוברות המשטרה
credit: דוברות המשטרה
credit: דוברות המשטרה
357 people were killed in traffic accidents in Israel in 2015, and increase of 12% over 2014, when 319 people were killed in traffic accidents.