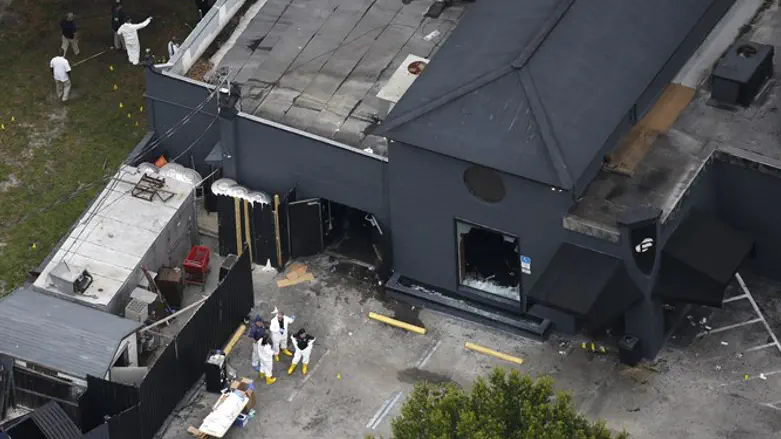 Scene of Orlando massacre
Reuters
The widow of Orlando nightclub shooter Omar Mateen was formally charged on Tuesday with a terror-related offense and obstruction of justice in connection with the attack, AFP reports.
The indictment states that Noor Salman, who was arrested on Monday in northern California, aided and abetted her husband's attempt to provide material support to a foreign terrorist organization, namely the Islamic State (ISIS) jihadist group.
Salman, 30, is also charged with obstruction of justice for allegedly misleading local police in Florida and the FBI on information relating to the attack.
49 people died in Mateen's assault on the Pulse nightclub on June 12, 2016, the deadliest mass shooting in modern U.S. history.
Mateen, a U.S. citizen born in New York to Afghan immigrant parents, pledged allegiance to ISIS during a phone call with authorities during his rampage.
He was killed after taking hostages during a three-hour standoff inside the nightclub.
It has also been revealed that he took to social media during the massacre to declare support for ISIS, writing, among other things, "You kill innocent women and children by doing us airstrikes… now taste the Islamic State vengeance."
Salman, who had a four-year-old son with Mateen, made an initial appearance in federal court in Oakland, California, on Tuesday and had the charges read out to her, according to AFP.
She faces up to life in prison if found guilty.
Given that it was unclear if she had an attorney in California, another hearing was scheduled for Wednesday, a spokesman for the U.S. Attorney's office told AFP.
He said Salman, who moved to the San Francisco area to live with family after the attack, was provisionally represented by a federal public defender on Tuesday.
Her case is expected to be transferred to Florida.
Media reports have suggested that Salman may have had prior knowledge of her husband's plan to carry out the massacre, as she had accompanied him on at least one trip to the nightclub and on one occasion went with him to buy ammunition.