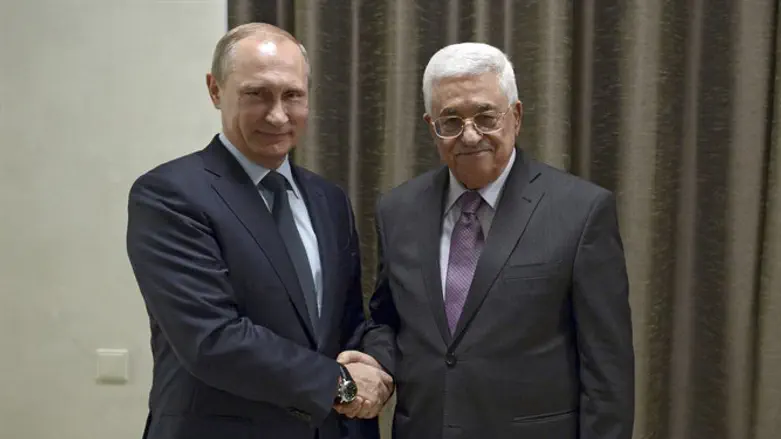 Putin and Abbas
Reuters
Palestinian Authority (PA) chairman Mahmoud Abbas has asked Russian President Vladimir Putin to intervene in order to stop the United States from moving its embassy to Jerusalem.
Top PA official Saeb Erekat told AFP on Friday he had passed on the message from Abbas to Putin during a visit to Moscow during which he met Russian Foreign Minister Sergei Lavrov.
"The letter asks President Putin to do what he can about the information we have that President-elect Donald Trump will move the embassy to Jerusalem, which for us is a red line and dangerous," Erekat said, according to the news agency.
PA officials have in recent days continuously warned against moving the U.S. embassy from Tel Aviv to Jerusalem, a campaign pledge of President-elect Donald Trump.
Abbas last week wrote Trump a letter in which he warned the President-elect against moving the American embassy, saying that such a move would be crossing a "red line" and could jeopardize peace prospects.
Earlier in the week the PA chairman warned of "serious implications" if the embassy is moved, saying, "Moving the embassy will have serious consequences not only for the Palestinian people, but also for the legitimacy of the entire international struggle against the occupation."
Erekat himself has threatened that moving the American embassy to Jerusalem would destroy the Israel-PA peace process.
On Friday, the Grand Mufti of Jerusalem used his sermon at the Al-Aqsa Mosque compound to say the embassy move would represent an "assault" on Muslims across the globe, noted AFP.
Earlier this week, PA leaders called for prayers at mosques across the Middle East to protest Trump's plans to move the embassy to Jerusalem.
According to Mohammad Shtayyeh, a senior PA official and Fatah central committee member, the PA leadership has been informed by diplomatic contacts that Trump could call for the move in his inauguration speech on January 20.
(Arutz Sheva's North American desk is keeping you updated until the start of Shabbat in New York. The time posted automatically on all Arutz Sheva articles, however, is Israeli time.)