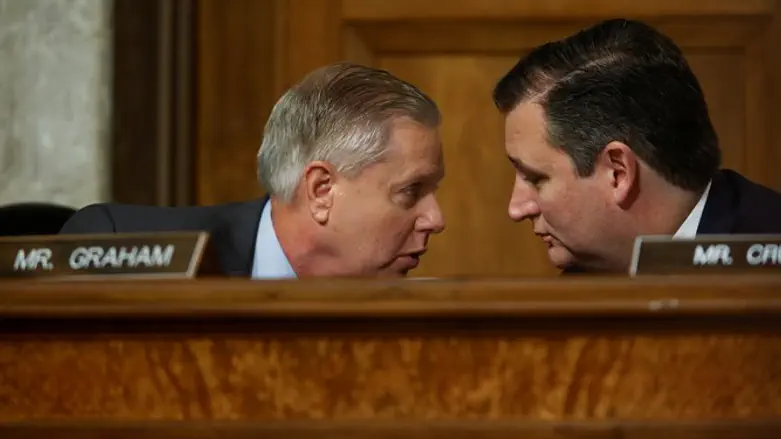 Lindsey Graham and Ted Cruz
Reuters
Senators Lindsey Graham (R-SC) and Ted Cruz (R-TX) teamed up on Thursday to introduce a law that would block taxpayer dollars from going toward the UN, in response to the anti-Israel Resolution 2334 passed by the Security Council last month.
Speaking on MSNBC and quoted by The Washington Examiner, Graham and Cruz said the resolution passed last month, which the United States abstained from, was a step too far in attacking Israel and must be undone.
"Twenty-two percent of the money to fund the UN comes from the American taxpayer. I don't think it's a good investment for the American taxpayer to give money to an organization that condemns the only democracy in the Middle East," said Graham.
A day after the UN resolution passed, Cruz had called on the United States to withhold funding to the global body until it reverses its decision. Similarly, Graham announced his intention to introduce the legislation shortly after the vote.
Cruz also said on Thursday that even though the U.S. abstained in the vote, the resolution was coordinated by U.S. diplomats and allowed to pass by President Barack Obama and Secretary of State John Kerry.
"On the way out, he's struck out repeatedly at Israel and he's done real damage," he said, according to The Washington Examiner, in reference to Obama.
The best way to mitigate that damage is to get the resolution undone, and the Republican Senators said they believe the easiest way to do that is to stop paying for the UN
"If you cut off their money, that gets their attention and I think we've got real prospects of seeing this thing moved through Congress," added Cruz.
Cruz and Graham's law comes a week after the House of Representatives voted overwhelmingly in favor of a resolution rebuking the United Nations for passing Resolution 2334.