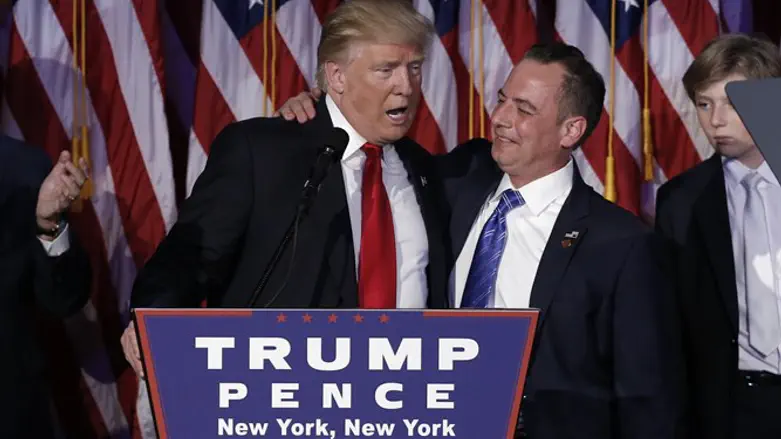 Donald Trump celebrates election with Reince Priebus
Reuters
President-elect Donald Trump accepts the U.S. intelligence community's conclusion that Russia engaged in cyber attacks during the November presidential election, his incoming chief of staff Reince Priebus acknowledged on Sunday.
Priebus, speaking on Fox News and quoted by Reuters, said Trump believed Russia was behind the intrusions into the Democratic Party organizations, though he did not clarify whether the president-elect agreed that the hacks were directed by Russian President Vladimir Putin.
"He accepts the fact that this particular case was entities in Russia, so that's not the issue," Priebus said, in the first acknowledgment from a senior member of the Republican president-elect's team that Trump had accepted that Russia directed the hacking and subsequent disclosure of Democratic emails during the campaign.
Trump initially rejected the CIA's assessment that the hacking was carried out by Russia in order to sabotage Hillary Clinton's candidacy, insisting that Democrats bitter with the results of the election were inventing excuses for their defeat.
U.S. spy chiefs insisted last Thursday they have strong evidence that Russia mounted an "unprecedented bid" to disrupt the American election, and later shared that information with Trump.
After receiving the briefing on Friday from leaders of the U.S. intelligence agencies, Trump did not refer specifically to Russia's role in the presidential campaign.
In a statement, he acknowledged that "Russia, China, other countries, outside groups and people are consistently trying to break through the cyber infrastructure of our governmental institutions, businesses and organizations including the Democrat(ic) National Committee."
Trump spokesman Sean Spicer told Reuters the president-elect's conclusions remained the same and that Priebus' comments were in line with Friday's statement.