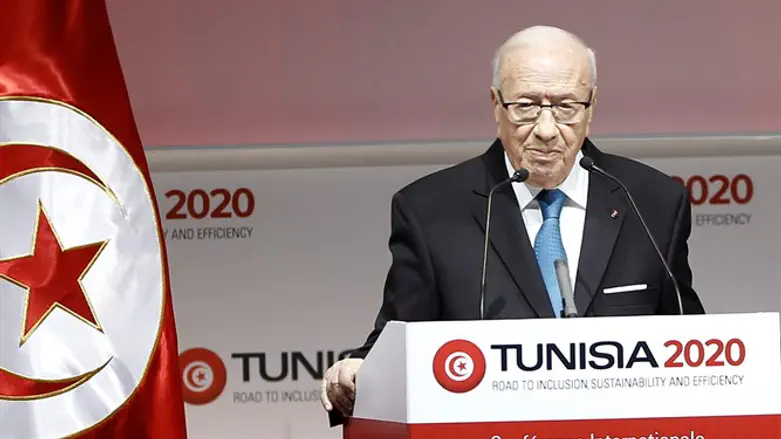 Tunisian President Beji Caid Essebsi
Reuters
Tunisian President Beji Caid Essebsi on Sunday said that his government suspects Israel of being behind the assassination of Hamas engineer Mohamed Zaouari, Haaretz reported.
Zaouari, an aviation scientist, was shot to death outside his home in Sfax, Tunisia, on December 15. Hamas said two days after his death that he was a member of the organization's military wing and one of the leaders of its drone program. The group at the time also blamed Israel for his death.
The investigation into the attack is continuing, Essebsi said, according to Haaretz. He rejected criticism that the Tunisian government was not doing enough to advance the investigation, adding that the government would not hesitate to turn to the international community once it had collected sufficient evidence.
Essebsi's statement was the highest-level indication that Israel was suspected of involvement in Zaouari's death. Tunisia's Interior Minister had previously said Zaouari's murder had been planned abroad by foreigners, though he admitted that "we do not yet have any tangible proof" and did not name any specific country.
The death of Zaouari came as Hamas continues to rebuild its infiltration tunnel network into Israel, after the IDF destroyed the network during Operation Protective Edge in 2014.
In addition, the group has invested considerable resources in the development and procurement of weapons, including long-range missiles that cover most of the territory of the State of Israel.
As part of these efforts, Hamas conducts ongoing missile tests meant to advance its domestic rocket arsenal ahead of its next terror war against Israel.
Israel has not directly responded to Hamas's allegations. Responding to a question about Zaouari's death on December 21, Defense Minister Avigdor Liberman would only say, "If someone was killed in Tunisia, he is not likely to be a peace activist or a Nobel Prize candidate. Israel does what needs to be done to defend its interests."