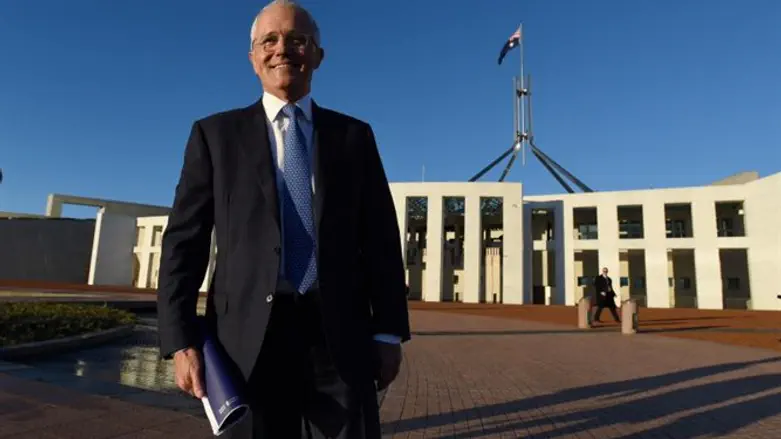 Australian Prime Minister Malcolm Turnbull
Reuters
JTA - Australia's Prime Minister Malcolm Turnbull paid an unexpected visit to Sydney's Central Synagogue to join its Friday night service and menorah lighting, telling the congregation that Australia stands "shoulder to shoulder" with Israel.
The synagogue's rabbi, Levi Wolff had received a call from Turnbull on Friday afternoon wishing him greetings and in return he received an impromptu invitation to attend the evening's service together his wife Lucy. The Central Synagogue at Bondi Junction is within the Prime Minister's electorate of Wentworth.
Turnbull addressed the congregation, witnessed the lighting of the seventh candle, and danced with the rabbi and Chazan Shimon Farkas.
He told the congregation that the Jewish people had "extraordinary resilience and determination in the face of darkest adversities."
In his address, Turnbull said: "We could not imagine Australia, the most successful multicultural society in the world, without the extraordinary contribution of the Jewish people. As your prime minister, I thank you for that."
Referring to the recent UN Resolution 2334, he said the resolution "has been deeply unsettling for your community."
The congregation applauded after Turnbull said: "Australia stands with Israel…the only democracy in the Middle East."
He added: "We support the peaceful resolution of the disputes between Israel and the Palestinians. We support a two-state solution just as the government of Israel does." He added that a two-state solution can only be negotiated between the parties.
Turnbull said the solution "is not assisted by one-sided resolutions made in the councils of the United Nations…or anywhere else." He reiterated that Australia does not support one-sided resolutions saying that they are "not conducive to the achievement of those negotiations which we urge the parties to undertake."
He said: "We stand with Israel, we support Israel, in its efforts to achieve the solution and above all we know we stand shoulder to shoulder in the fight against terrorism."