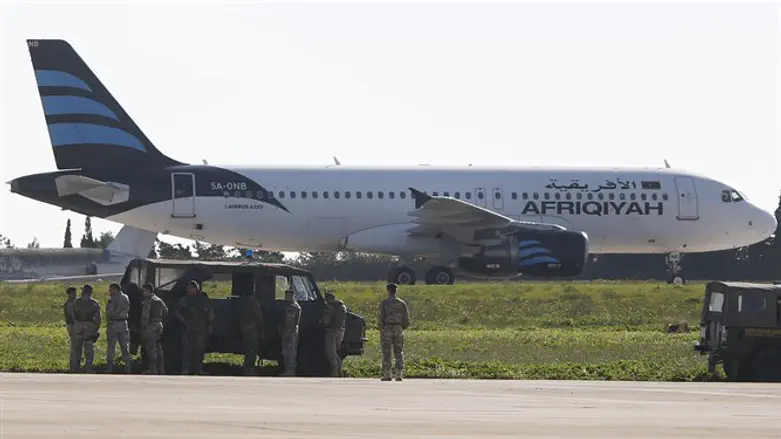 Hijacked airplance
Reuters
The plane hijacking incident in Malta ended without injuries on Friday, after the hijackers freed all their hostages unharmed and surrendered, Reuters reports.
Television pictures showed two men being led from the aircraft in handcuffs. The prime minister of the tiny Mediterranean island, Joseph Muscat, tweeted "hijackers surrendered, searched and taken into custody".
The Airbus A320 had been on an internal flight in Libya on Friday morning when it was diverted to Malta, located 500 km (300 miles) north of the Libyan coast, after a man told the crew he had a hand grenade.
A Libyan television channel reported it had spoken by phone with a hijacker who described himself as head of a party which is loyal to Muammar Qaddafi, the former Libyan strongman who was killed in an uprising in 2011.
Buses were driven onto the tarmac at Malta International Airport to carry away 109 passengers, as well as some of the crew. Television footage showed no signs of struggle or alarm, according to Reuters.
After passengers had left the plane, a man briefly appeared at the top of the steps with a plain green flag resembling that of Qaddafi's now-defunct state.
Libya's Channel TV station said one hijacker, who gave his name as Moussa Shaha, had said by phone he was the head of Al-Fateh Al-Jadid, or The New Al-Fateh.
Al-Fateh is the name that Qaddafi gave to September, the month he staged a coup in 1969, and the word came to signify his coming to power.
In a tweet, the TV station later quoted the hijacker as saying: "We took this measure to declare and promote our new party", Reuters reported.
After the standoff ended peacefully, Muscat told a news conference there had been talks between Maltese authorities and the Libyan hijackers.
"We were not willing to negotiate until there was a surrender," he said, adding that the men had been carrying a grenade and two pistols and asked for two Maltese negotiators to board the aircraft, but this was rejected.
"There has been no request for asylum by the hijackers," Muscat added.
(Arutz Sheva's North American desk is keeping you updated until the start of Shabbat in New York. The time posted automatically on all Arutz Sheva articles, however, is Israeli time.)