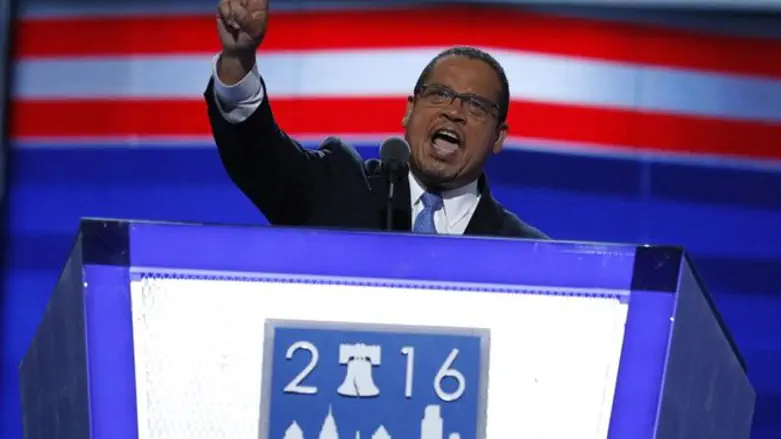 Keith Ellison
Reuters
In a lengthy letter to the Conservative movement's rabbinical arm, U.S. Rep. Keith Ellison said he regretted past positions that have unsettled Jews as he seeks the chairmanship of the Democratic Party.
Secretary of Labor Tom Perez, meanwhile, spoke Wednesday with about 50 Jewish Democrats about his own bid to head the Democratic National Committee and reassured them of his bona fides in the area where the Minnesota lawmaker has come under fire – support for Israel.
Ellison, beginning his three-page letter to the Rabbinical Assembly with a quote from Pirkei Avot, Jewish ethical teachings – "The one who learns, learns from everyone" – expressed regrets, as he has several times since launching his bid to lead the DNC, for his association years ago with the anti-Semitic Nation of Islam.
"At the time, I did not grasp [Louis] Farrakhan's anti-Semitism," he wrote, referring to the movement's leader.
"It was difficult for me to see that the struggle for equality for African Americans could be subverted into hatred of others, specifically anti-Semitism," Ellison wrote. "I focused on Farrakhan speaking to concerns of Black men. When I became aware that he made hateful statements about other groups, including the Jewish community with whom I was so close, I knew that I must reject his teachings. And I rejected them completely."
Ellison's letter was in response to queries from the Rabbinical Assembly.
"We are interested in understanding how will you affirmatively work to ensure that the Democratic Party condemns any and all efforts to delegitimize Israel, including efforts to deny the historic Jewish connection to the Land of Israel including Jerusalem," said the R.A. letter.
Ellison, who has routinely voted for defense assistance to Israel, also for the first time regretted his exceptional vote against additional missile defense assistance for Israel during the 2014 war between Israel and Hamas.
"In my mind, confident that the Iron Dome funding that I have always strongly supported would pass, I cast a vote reflecting my commitment to restoring calm and quiet at a moment of violence," he said, referring to the anti-missile system Israel used to deflect Hamas rockets. "My voice was not being heard and I felt in the moment that casting my vote was a vital way to amplify my message. It was the wrong way to speak out and it was the wrong way to vote. I regret it deeply."
Ellison, who first publicly rejected the anti-Israel Boycott, Divest and Sanctions movement in a statement last month to JTA, says in the letter that he has "fought" BDS with Jewish allies.
"Together we have fought against BDS and continuous attempts to delegitimize Israel in Minnesota, in the United States, and around the world," he said. "I have said time and time again that BDS does not help anyone advance the goal of a two-state solution."
Ellison, the first Muslim elected to Congress, also recalls his years of combating Holocaust denial, including among Muslims.
Perez spoke for about 45 minutes with top Jewish lawmakers and fundraisers for the Democratic Party. Much of his emphasis was on his past work with the Anti-Defamation League tracking and combating hate crimes, but he also emphasized his understanding of Israel's security needs.
He described how he once stood on the Golan Heights, captured by Israel from Syria in the 1967 Six-Day War, and appreciated the nearness of Israel's enemies in Syria and Lebanon.
"It was impossible to walk around during the visit and not appreciate the strategic importance not only of the Golan Heights but of Israel, the only democracy in the Middle East," Perez said.
The electors who choose the DNC chair – close to 450 of them – are state party officials and officials in state government, among others, and Israel and the Middle East will not figure highly in their considerations. They are concerned much more with rebuilding a party devastated by its across-the-board losses in November's elections.
Nonetheless, Ellison's letter and Perez's appeal reflect the importance that some in the party still place on maintaining Jewish support, a mainstay of the party for decades.
Ilyse Hogue, meantime, the president of NARAL Pro-Choice America, an abortion rights group, dropped her bid for the DNC chief. Hogue is Jewish.