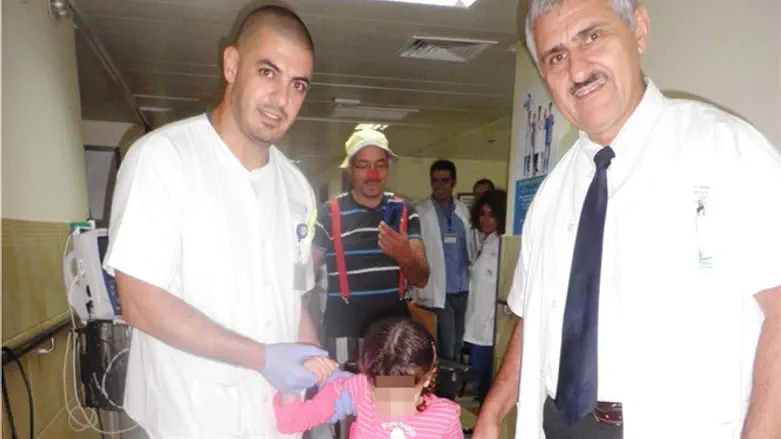 Dr Alexander Lerner, Head of the Orthopedic Department injured Syrian girl
צילום: Ziv Medical Center
Ziv Medical Center, which has treated over 700 casualties of the Syrian civil war, including women and children is now working to raise funds for their treatment and return to Syria.
The casualties all reach the border, by any means at their disposal. Among the injured are children and young adults who arrive on their own, unaccompanied by a family member, perhaps they have lost their families during the course of the war. Most of them have sustained severe, complex war injuries, from bullets, shrapnel and blast damage, suffering from internal injuries and amputated limbs.
In contrast to routine treatment of patients hospitalized in Ziv, these casualties are treated over a long period of weeks and even months, without the comfort of a family member by their side, arriving without even the most rudimentary items required by a patient.
In addition to the life-saving treatment given to the patients, Ziv also provides the support of its social services as well as physiotherapist, to assist the casualties in dealing with the traumatic experiences they have experienced.
Ziv is currently working to purchase much needed medical items for the Syrians. Their time in Israel is limited, and they return from Ziv to unknown circumstances in Syria. After their return, they may no longer be able to access medical services, hospitals or rehabilitation facilities which will insure their recovery.
Ziv therefore makes every effort to provide the patients with medical items which will enable them to function following their return, including medical equipment, medication, bandages and guidance for continued self-treatment.
Director of Ziv Medical Center Dr. Salman Zarka said, "We wish to thank each and every one of you who have expressed their wish to offer assistance and contributions. We are awed by the wide spread responses we have received since Thursday last week and are pleased that the public understands and appreciates the importance of the work done by the staff at Ziv, who work day and night to treat the Syrian casualties. Financial contributions are translated into medical assistance, increasing our ability to offer aid to the Syrian casualties who are returning to a war torn country, in which they will have difficulty in functioning without appropriate medical items to take home with them."
Earlier this week, Israeli citizens formed a human chain to show support for civilian victims of the Syrian civil war. In November, Israeli medical clowns traveled to Germany to bring joy to children who had suffered atrocities in Syria's civil war.
credit: Ziv Medical Center
credit: Ziv Medical Center
credit: Ziv Medical Center
credit: Ziv Medical Center