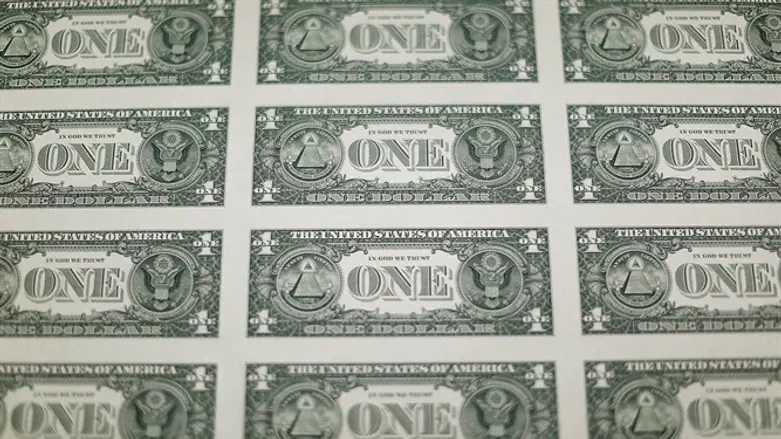 One dollar bills
Reuters
The United Nations on Monday launched an appeal for $547 million (524 million euros) to help 1.6 million people in the Palestinian Authority (PA) Sin 2017, AFP reports.
The response covers 1.1 million residents of Gaza, and half a million people in PA-assigned of Judea and Samaria.
"Needs in Gaza remain particularly acute and humanitarian services provided by the international community remain a lifeline," said Robert Piper, UN humanitarian coordinator for the Palestinian territories, in a letter accompanying the launch and quoted by AFP.
The appeal was down from $571 million the year before, of which about 47 percent, or $267 million, was met.
Politically there has been few positive trends in 2016, with plans for a unity government between PA chairman Mahmoud Abbas's Fatah faction and rival Hamas stumbling, amid deepening divisions between rival the factions.
Attempts to encourage new peace talks between Israel and the PA, stalled since 2014, have also failed.
France has been attempting to bring the sides together but this past week announced a peace conference planned for the end of December had been postponed until January.
Israel has long opposed the French initiative, explaining that the only way to reach a peace agreement is through direct talks with the PA, which the PA refuses, choosing instead to impose preconditions on talks.
Piper said in a separate statement quoted by AFP that without political reform and a meaningful peace process, international aid was "just trying to buy time".
"This humanitarian response must be coupled with bold political action," he said.
The UN's appeal follows a call this past September by the World Bank, which said international donor support is a must to maintain the PA's budget-cutting achievements and stave off crisis.
The PA has repeatedly asked for foreign donations in recent years, claiming it is on the verge of collapse due to a worsening financial crisis.
At the same time, while blaming Israel for the PA's financial woes, Abbas continues to spend six percent of the PA's annual budget to pay $4.5 million a month to jailed terrorists and another $6.5 million to their families.