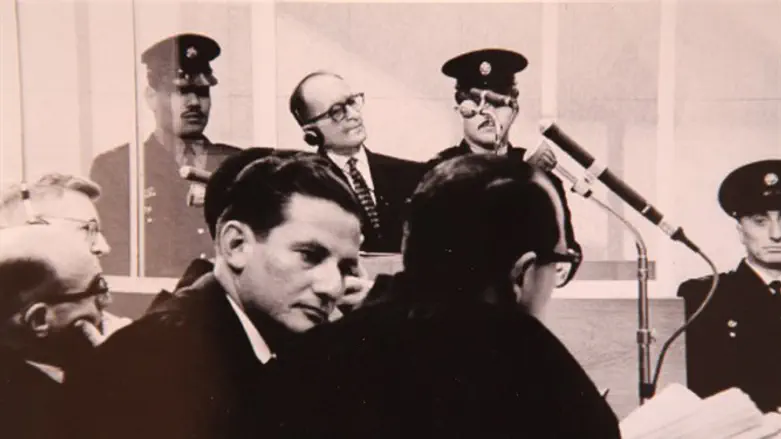 Adolf Eichmann's trial
GPO, Flash 90
One of Adolf Eichmann's cell guards has written a letter claiming his days as Eichmann's guard during the time the Nazi criminal was imprisoned in Israel left him permanently traumatized, and has called on the State of Israel to recognize him as eligible to receive benefits as a disabled person, reported Yediot Ahronoth.
"Until today, when I remember his horrific deeds, how he murdered innocent people, children, helpless people, and the elderly, I begin to shake, I get goosebumps, and I start crying uncontrollably. I've become a dependent, and I suffer from paranoia and nightmares. In my nightmares, Eichmann is holding my throat and trying to choke me, while he looks into my eyes threateningly, shaking his finger as if to say, 'I'll show you,'" claimed the prison guard, who is now 81, in a letter from his lawyer.
"Eichmann made me taste the food before giving it to him, to make sure it wasn't poisoned. Every time I tasted it, I was scared I would die. I felt as if I was being sacrificed to protect Eichmann, over and over again. I had to guard him closely, and it was a lot of responsibility. One time, when I examined the letters he'd received, I found a razor under the letter's stamp."
In his letter, the guard also explained that his emotional state had deteriorated over the years, and he now needs psychological and psychiatric help.
"I've been diagnosed as suffering from PTSD as a result of my time spent as Eichmann's guard," he concluded.