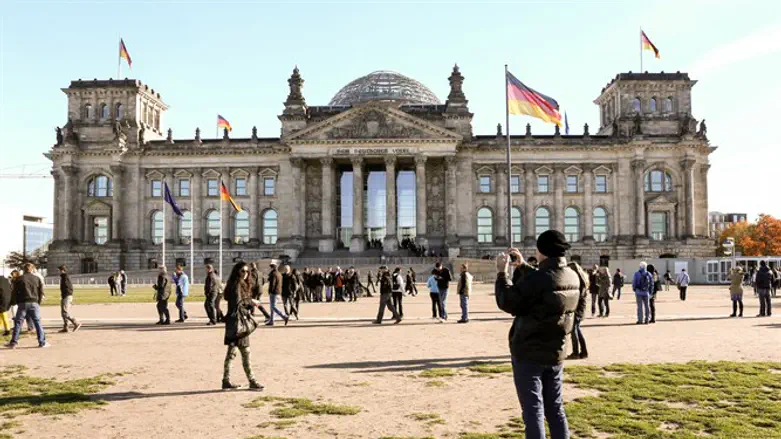 Reichstag building in Berlin, Germany
Flash 90
Though the name may seem offensive to some, the "Rent A Jew" program actually aims to do the opposite by allowing Germans who have never met a Jew before to book a class, session, or meeting with one of their Jewish volunteers.
Rent A Jew organizer Alexander Rasumny said, "A lot of people want to be more than just the regular Jewish stereotypes in Germany, reduced to victims. A lot of people want to be seen in their own right."
Though Germany had approximately 565,000 Jews in 1933, the Holocaust wiped out nearly all of them, with only 37,000 remaining by 1950. Today, out of Germany's 81 million people, only 230,000 - less than 0.3% - are Jewish. Though Germany's Jewish community is the fastest growing in the world, most German citizens have never met a Jewish person, despite the fact they live every day in the shadow of the Holocaust.
"We thought for quite a long time about it," Rasumny said. "We thought that the best way to break the ice and get an open discussion would be to be as open as possible ... to embrace the irony within the situation.
"The most important thing is that people get used to the idea of discussing things with Jews instead of only talking about Jews. In the seminars, it's great: Once you accept the idea, you're ready for hearing what we have to say."
Rent A Jew, which was founded by the Munich-based Janucz Korczak Academy, works by organizing presentations and then sending over volunteers to speak - mostly to students in schools and universities - about what it's actually like to be a Jew. Volunteers also work to break stereotypes and debunk myths.
"We believe that humor mixed with a bit of chutzpah is the best way to refute old stereotypes and prejudices and show how absurd they are," Rent A Jew wrote in a statement.
Spokesperson Mascha Schmerling said the title is deliberately provocative.
"We know it's questionable. It's there to provoke, to promote conversation... We want to give people the chance to talk to the Jewish community," Schmerling told German broadcaster Deutsche Welle. "We want them to see that we're completely normal people. We don't want to be defined purely by history and we don't want to always be seen through this Holocaust lens."
"For hundreds of years, anti-Semites have claimed that Jews are less valuable than other people. We are tired of hearing such assignments. And we believe that humor mixed with a bit of chutzpah is the best way to refute old stereotypes and prejudices and show how absurd they are," explains Rent A Jew's website. "There are 100,000 Jews in Germany, but few [Germans] know a Jew personally. We want to change this by allowing encounters between Jews and non-Jews - away from stereotypes.
"With Rent-a-Jew , it becomes possible to each other instead of talking over one another to answer questions on both sides and break down prejudices.
"Jewish participants are as colorful as Judaism. They are not professional speakers or experts for politics and religion, but people from next door with their own personal stories and opinions."
Students who participated in a Rent A Jew session said the exchange was "enlightening."
"They live alongside us, although you don't always know it," one teenager in the class told a German news broadcaster. "Not only have I learnt about day-to-day life in Judaism, but I've also learnt that many things I've heard about Jews aren't actually true."