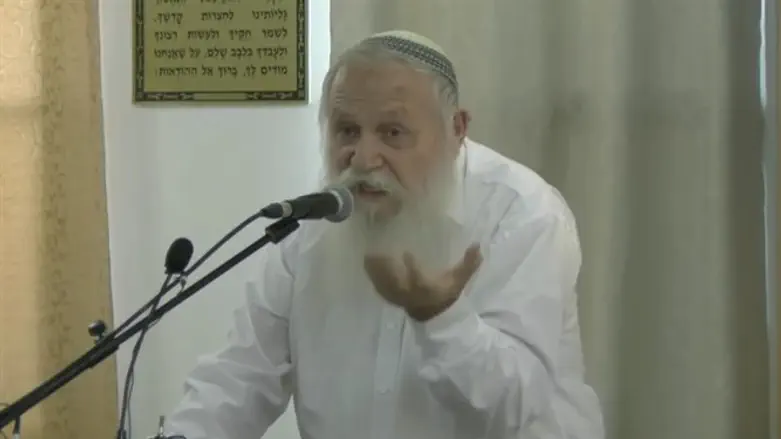 Rabbi Druckman at Amona
charlive
Rabbi Haim Druckman, a senior Religious Zionist rabbi has called Wednesday on the residents of Amona to accept the arrangement suggested by the government despite the risks inherent in it.
"I, like many others wish to thank you and express my great admiration for the just and determined struggle which you have conducted not only for your community, Amona, but also for the land of Israel and its development. There is no doubt that this struggle will attain important achievements for the entire settlement movement and will raise the flag of the land of Israel and be remembered for posterity in the annals of our return to our country," wrote Rabbi Druckman.
He added that "Now is the moment of decision and there is no doubt that in many ways it is harsh since not everything was achieved and not all hopes were fulfilled."
Rabbi Druckman called on residents to "choose the straight and true path, to see the half-filled cup which is indeed fuller than expected even if the missing parts of it hurt for all of us. To accept the solution which our representatives in the government obtained for Amona which even if it is not a complete solution at least provides for the main aspect which is that Amona will stay on this good hill and it will not be left barren or transferred to any other nation."
He also urged them not to get into disputes with police and soldiers. "On the basis of the suggested arrangement, which maintains Amona's presence on the hill, there is no justification for a struggle with security forces or for an altercation with unforseeable consequences.
"I promise you faithfully that I and our representatives in the government and the Knesset will continue to stand behind Amona and promote its reconstruction according to the arrangement proposed by the government. Bit by bit is the way in which we return to Zion in our time, "concluded Rabbi Druckman.