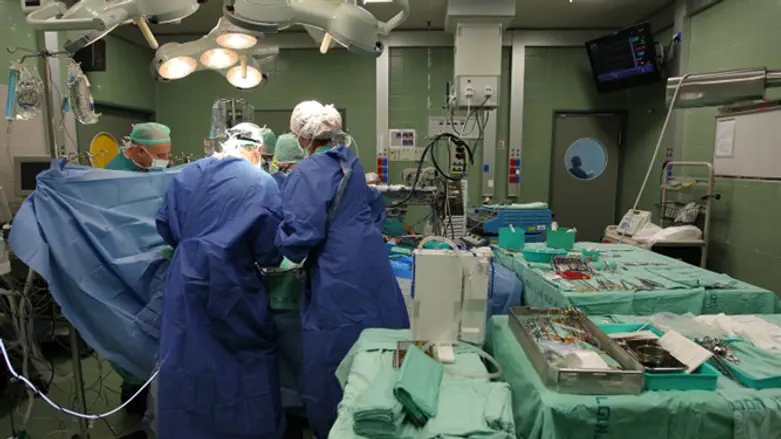 Doctors in an operating room
Flash 90
A 35-year-old resident of Abu Gosh was taken for an emergency cesarean section after the hospital staff discovered placental abruption. On Tuesday evening, just a few hours after the operation, the mother died of amniotic fluid embolism.
Hospital staff report this to be an unusual circumstance, occurring only once in every 40,000 births. Symptoms of amniotic fluid embolism are sudden heart failure and lung failure, as well as damage to the blood clotting system, which leads to heavy bleeding.
They also said there are no warning signs and no ways to prevent amniotic fluid embolism, and the death rate for cases which involve cardiac arrest is over 90%.
The Arab mother arrived at Hadassah Ein Kerem Hospital with placental abruption, and was immediately taken for cesarean section to save the baby's life. Immediately after the surgery, the mother experienced cardiac arrest and general system failure, both classic signs of severe amniotic fluid embolism to the lungs.
"Hospital staff immediately began attempts to resuscitate the patient and fought for her life for more than 24 hours. Unfortunately, she could not be saved, and her death was confirmed this evening," the hospital said. "We send condolences to the family and feel their pain."
A notice has been sent to the Health Ministry, as well as to a social worker who will be working with the woman's family.