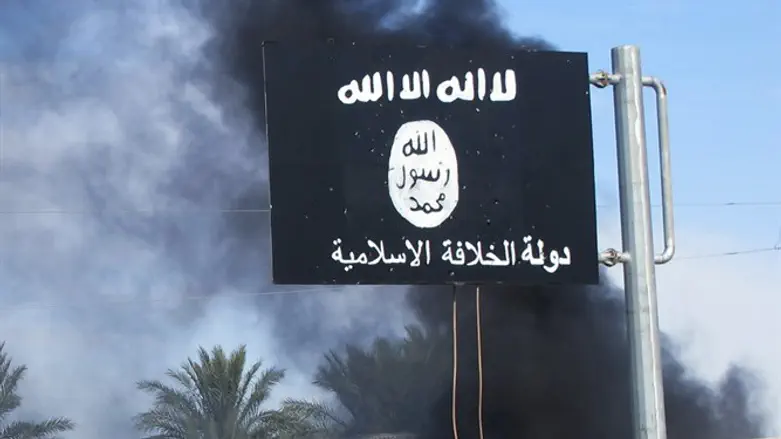 ISIS flag
Reuters
A coalition drone strike in Syria killed three Islamic State (ISIS) group leaders involved in plotting foreign attacks, including two men who helped facilitate last year's attacks in Paris, the Pentagon said Tuesday, according to AFP.
"The three were working together to plot and facilitate attacks against Western targets at the time of the strike," Pentagon press secretary Peter Cook said in a statement.
They were killed in a December 4 airstrike in Raqa, considered ISIS's de facto capital in Syria.
Two of those killed – Salah-Eddine Gourmat and Sammy Djedou – were involved in facilitating the November 13, 2015 Paris attacks, in which 130 people died, Cook said.
Gourmat was a French national and Djedou was a Belgian.
Both of them were "close associates" of Abu Muhammad al-Adnani, an ISIS spokesman and external operations leader who was killed in a coalition airstrike in August.
The third person killed was Walid Hamman, a Frenchman who Cook said was a suicide-attack planner convicted in absentia in Belgium for a terror plot disrupted in 2015.
They were riding together in a vehicle at the time of the drone strike, Pentagon spokesman Navy Captain Jeff Davis said.
All three belonged to a network led by Boubaker Al-Hakim, a Tunisian killed in an airstrike last month, officials said.
Al-Hakim was suspected of involvement in extremist attacks against Tunisian political leaders in 2013. His network also included Cherif Kouachi, one of two brothers who carried out the attack on Charlie Hebdo in January 2015 that killed 12 people.
During last year's ISIS-claimed attacks in Paris, suicide bombers and gunmen launched a coordinated assault across the French capital, including at the Bataclan, a concert hall where three attackers killed 90 people during a rock gig.
Gourmat had worked on external attacks in Europe, the Middle East and North Africa and was involved in the "financial facilitation" of the Paris attacks, Davis said, according to AFP.
Djedou took part in plotting Europe attacks, Davis added without giving details about his role in the Paris attacks.
Djedou was a close associate of Abdelhamid Abaaoud who led the deadly November 13 attacks in Paris before police gunned him down during a raid days later.
Djedou had left Belgium in 2012 for Syria, where he eventually rose up ISIS ranks and helped plan the Paris attacks as well as the attacks in Brussels that killed 32 people in March.
Hamman was a "longtime French terrorist" who helped ISIS seize Mosul, among other operations, Davis said.
A French court sentenced an absent Gourmat, then 24, to four years in prison in March 2014 on charges including trying to conduct jihad in Syria.
He had been arrested with two other men in May 2012 at an airport near Saint-Etienne in central France carrying a revolver, night-vision goggles, camouflage clothing and tactical vests.
They had been trying to fly to Gaziantep in southeast Turkey. Gourmat and another of the arrested men claimed they were going on a humanitarian trip.
Gourmat, who was not kept in custody ahead of his trial, later fled France.
AFP contributed to this report.