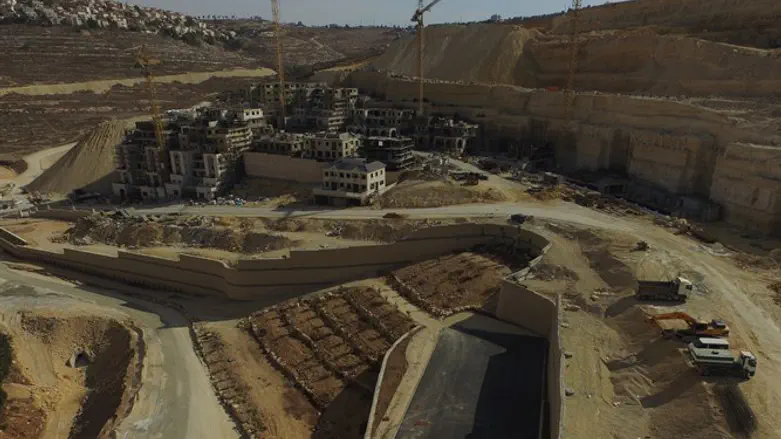 Ramat Givat Zeev is rapidly taking shape.
P.R
The upscale Ramat Givat Zeev project, located just outside Jerusalem near Route 443 to Modiin continues to spur record breaking sales from buyers, many of them new and future immigrants, from Los Angeles, New York and beyond.
A buyers group consisting of over 30 families from the metro Los Angeles region actually created a spike in the value of each apartment by nearly $60,000, even before they take possession of the keys to their new homes, which are currently under construction.
The rising value of these properties can be traced directly to the fact that only 50 apartments within the 350 unit complex remain to be sold.
The overwhelming interest from American buyers, stems from the fact that Ramat Givat Zeev has promoted itself as a project that is being erected with high-end standards, mimicking the lifestyle that its buyers have been used to in the USA. It will accentuate the discerning religious and cultural quality of life quotients found in places such as Five Towns, Brooklyn and Queens, New York, as well as metro Los Angeles.
Ramat Givat Zeev will have synagogues, mikvaot and quality schools, as well as a country club with a pool and gym, tennis and basketball courts, green parks and a shopping center.
Yisroel Hayom, Israel's largest daily newspaper recently dubbed Ramat Givat Zeev, as Jerusalem's "Caesarea" (an upscale town near Central Israel), as well as a "once in a generation" neighborhood.
Because of the project's unique locale, Israeli real estate experts believe that once the first residents of Ramat Givat Zeev move into their homes within the next 18 months, prices for the properties will actually double in price.
The next sales event for the Ramat Givat Zeev project will take place at the Aish HaTorah Community Shul in Los Angeles (9100 West Pico Blvd.) on Sunday, December 18 from 11AM to 9PM.